Consistently rated as the number one shore diving destination in the world, Bonaire should sit high on your Caribbean diving bucket list.  Bonaire scuba diving can be summed up by one word: memorable. Most of the dive sites consist of shallow yet abundant coral reefs, although the few wrecks found nearby are more than worthwhile. You'll want plenty of time to explore the more than 50 dive sites accessible by shore.
While the shore diving should convince you to buy your flights alone, there's plenty of boat diving to be done as well. Nearby Klein Bonaire boasts dozens of pristine dive sites, so be sure to save a couple days for heading out on the dive boat.
Whether you're the most experienced diver in the world or just starting out your scuba career, the island nicknamed "Divers Paradise" is one you'll fall in love with.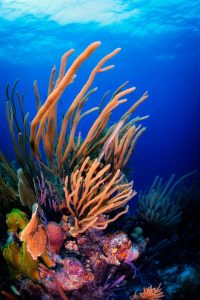 8 Interesting Facts When Traveling to Bonaire
Bonaire used to be a part of the Netherlands Antilles, but in 2010 that country was dissolved. This left Bonaire as a special municipality of the country of the Netherlands along with Sint Eustatius and Saba.
The famous dive site called 1000 Steps has only 67 steps in reality. Although it sure does feel like 1000 when you have to carry all your gear up and down!
The Hilma Hooker, Bonaire's premier wreck dive, is a boat with a long history. First christened in 1951, it changed hands and names over two decades before sinking off the Dominican Republic in 1975. However, it was raised from the seabed and refurbished to sail again. In 1979, she was purchased by a shipping company in Colombia. And 4 years later, she began to have difficulties off the coast of Bonaire. Thus, she was towed into the harbor. But the island's officials quickly became suspicious of the boat after the crew failed to produce the proper Customs documents. It turns out both Interpol and the FBI had been tracking the boat for months as a potential drug runner. A quick search led officials to find 25,000 pounds of marijuana hidden in the Hilma Hooker. The owners did not want to come to Bonaire to claim the boat as doing so would mean prosecution for drug smuggling. Therefore, the old ship was left to whither away. In September 1984, she sank to her current resting place between two reefs.
Bonaire is considered the shore diving capital of the world. More than 50 shore diving sites ring the coastline, and many diving packages include a pickup truck. So you just need to load your gear and go, picking out which sites suit you best along the way.
Bonaire is a part of the ABC (Aruba, Bonaire, Curacao) islands off the northern coast of Venezuela. Because of their unique position in the Leeward Antilles, these islands very rarely sustain a direct hit from hurricanes. In fact, Bonaire has only been hit by the core of a hurricane every 29 years on average, making this the perfect Caribbean destination during hurricane season.
The people of Bonaire are so sure that it's an underwater gem, the government even printed "Divers Paradise" on the license plates. There's no doubt about it, this place was built for divers.
Bonaire's airport is called Flamingo Airport. That's because the island is home to over 10,000 of the pink birds. In addition to standing around on one leg, these birds use Bonaire as a breeding ground. There's even a flamingo sanctuary in the southern part of the island.
Bonaire is a highly protected environment. More than 20% of its total land mass and 100% of the waters surrounding Bonaire and Klein Bonaire are national parks and are therefore protected. For this reason, you'll need to pay a Nature Fee before diving in the Bonaire National Marine Park.
Ready to set go scuba diving in Bonaire? Click here to read more about exploring this gorgeous island.
If Bonaire is the adventure you've been looking for, but you aren't sure you want to go it alone, consider a group trip.  Enjoy superb diving, relaxation time and a chance to meet new dive buddies.