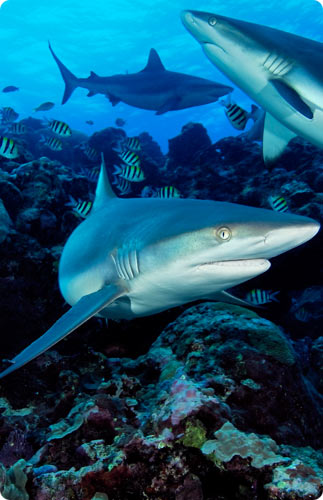 The list of top destinations for near-guaranteed shark encounters is surprisingly long, but we've narrowed it down to a handful of the best. Here are the best places to dive with sharks!
Bimini, Bahamas
The Bimini Islands can be found half way between Miami and the Bahamas, a small chain of islands that few tourists even know exist. They're popular because of their beautiful landscape and excellent reefs, and with opportunities for unqualified as well as certified divers to experience diving with sharks here, it easily reaches top of the list as one of the best worldwide locations for diving with sharks. The main attraction is the Bimini Bull Run, a closed cage experience in an expanse of water that's been home to bull sharks for over half a century.
Cocos Island, Costa Rica
Cocos is a small land mass that sits in the South Pacific around 340 miles off the western coastline of the Costa Rica mainland. It's a National Park and ranks as number 6 in the world of Û÷must-do' dives sites according to PADI. Aside from the sharks that thrive here, this remote island is also home to thousands of unique marine creatures that are hard to spot anywhere else. Hammerheads are the most common here, sighted by the hundreds in some nights, but lucky divers can catch a glimpse of Whale Sharks and White Tips too. Nearby Malpelo Island has similar diving, but is not as popular.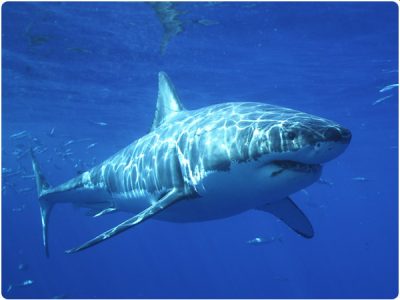 Protea Banks, South Africa
Just south of Durban on the east coastline of South Africa, Protea Banks is a reef that lies less than 10km off shore. It is home to an abundance of passing shark life, and lucky divers have recorded up to ten different species in a single descent. You can see expect to see Bronze Whalers, Ragged Tooth's, Tigers and maybe even a Great White or two.
Malapascua, Philippines
Monad Shoal is a small body of water that surrounds Malapascua Island in the heart of the Philippines. It's a popular dive region with plenty of sites to choose from, and it's also one of the best places in the world to see Thresher Sharks in the wild. With tails that make up nearly half their body length, no other marine mammal comes close. They're not very inquisitive and tend to avoid contact with humans, so quiet early mornings and small dive groups offer the best chance of sighting them.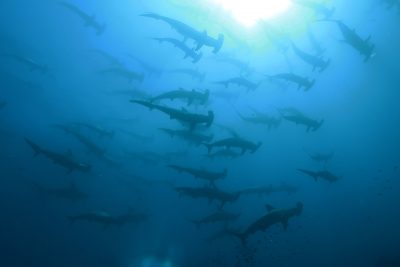 Beqa Island, Fiji
Beqa Island lies south of the main island of Viti Levu in the beautiful South Pacific Islands of Fiji. A popular spot for intentional shark feeding, divers gather around on the sea floor in a half circle waiting for up to 8 species of sharks to make their appearance. The shark dives often feature multiple bull sharks, whitetip reef sharks, blacktip reef sharks, nurse sharks, lemon sharks, grey reef sharks, silvertip sharks and over 300 species of fish. These dives regularly present the opportunity for award winning photos for photographers.