Have You booked An Overseas Dive Vacation? Are You Concerned About Staying Connected While Abroad?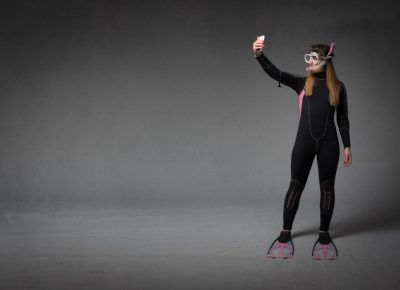 The good news is that with more people traveling and constantly improving technology, using a cell phone overseas is easier than ever before. Unfortunately, travelers must still wade through a number of considerations before using their phone abroad. In order to simplify your decision, here are the four best ways to stay connected during your next overseas dive vacation.
Upgrade To An International Cell Phone Plan
As the world takes flight and more people begin to travel internationally, cell phone companies are beginning to change their policy of price gouging overseas travelers. Using your normal plan overseas will still cost you a fortune, but if you upgrade to an international plan, you will save some money and stay connected.
International phone plans can go one of two ways. First, your provider might offer all customers free 2G data, international texting and low per-minute calling rates (about $0.20). In this case, you only need to make sure your destination is included. Some providers unfortunately exclude many countries from this offer.
Second, your provider might require you to purchase an additional package. These packages can include 100 megabytes of data or 100 talk-time minutes and 100 texts. You should check with your provider to see which plan fits your needs and budget.
While buying an international plan may be one of the more expensive options, there are benefits. You get to keep your regular phone number and people at home who need to get ahold of you only have to dial your original number.
Acquire A Local SIM Card Or Phone
One of the best ways to cut costs on connecting overseas is to acquire a local pay-as-you-go SIM card. These cards can usually be acquired in the airport or a local phone store.
The benefit to these cards is that calling within your destination country is a breeze. In addition, international rates (which means calling home for you) are usually more economical when calling from a local network. As an added bonus, most pay-as-you-go SIM cards include 3G capabilities and pay-as-you-go data.
However, you will only be able to use a local SIM if you are using a phone that is not locked to an American or Canadian provider. If it is, you can do one of two things. Either purchase a cheap or second-hand phone at your destination or bring along an old phone that is no longer in service. Cell phone providers will often provide 'unlock codes' for phones no longer included on your plan.
Rent An International Phone
If buying an international plan is too expensive or a local SIM card isn't for you, renting a phone with a preloaded international plan might fit the bill. This can be done one of three ways.
First, contact your major cell phone carrier. Usually, national providers offer phone rental plans for international travel and may offer you a discount if you are a loyal customer.
Second, you can contact a rental company. Several companies operate in both the US and Canada, but the largest is owned by National Geographic. These international rental companies generally offer competitive rates but be sure to check the quality of phones offered before agreeing.
Third, if you don't secure a rental phone before leaving home, you can rent one in some destinations. European and Asian countries normally have phone rental companies in the airport. If you intend to rent a local phone, be sure to check the availability before departure.
Alternatively, many international phone rental companies now sell international-capable SIM cards. These cards are often more expensive than local SIM cards, but come preloaded with a set amount of data and calling-credit. Most will still require an unlocked phone but can be arranged before departure for your convenience.
Use Free International Calling And Messaging Apps
The absolute cheapest way to stay connected on your overseas dive vacation is to utilize the large number of free international dialing and messaging apps available today. These apps use an internet connection in order to connect you and your loved ones or business contacts. You just have to make sure you have access to WiFi or have purchased international data.  Also, everyone you want to talk to has to have the same app set up on their phones.
Calling apps include Skype and FaceTime (for iOS). For messaging, check out WhatsApp, Line and Viber.
To sum up, choosing the right option for you can be complicated. Make sure you do some research into the options available through both your local cell phone provider as well as providers at your destination. With a little persistence, you will be able to find a plan that fits both your needs and budget on your next international diving adventure.