Scuba diving in or around a shipwreck is very appealing to divers and snorkelers alike. Between the historical artifacts lying around the ship like treasures peaking out from under the sand, to the thrill of discovering the marine life who consider the wreck home now, this is such a popular style of scuba diving, that we actually purposely sink ships in order to become wrecks. Looking for an incredible wreck dive to build your next dive vacation around? We've got a great list of ideas for you.
Extraordinary Tropical Wreck Dives
Wreck diving is a magnificent aspect of scuba diving. It's not just about witnessing the kaleidoscope of corals that encrust these sunken skeletons, or the vibrant fish species which make them home, but also discovering the rich and interesting history of each wreck and how they came to be on the ocean floor. From squeezing through port holes to swimming along immense hulls, wreck diving offers fascinating (and often eerie) encounters, which make it a completely different experience from reef diving.
If you are planning your next scuba diving vacation and looking to add a wreck dive to your itinerary, here are 8 of the world's best tropical wreck dives to build your next trip around.
SS President Coolidge, Vanuatu
Sunk off the coast of Espiritu Santo in the north of Vanuatu, the SS President Coolidge started out life as a 1930's US luxury ocean liner, before being converted into a troopship during World War II. Its shallow depths, good visibility and easy beach access make it one the region's most popular wreck dives. There are plenty of swim-throughs and decks to explore, and an intriguing mix of war-era cannons, jeeps and trucks, as well as luxury cruise liner chandeliers, fountains and statues.
There are a range of different dives possible around the Coolidge, at depths between 65-195 feet (20-60 metres), and in addition to beautiful coral, the wreck is frequented by a diverse array of colorful reef fish, large pelagics, sea turtles and moray eels.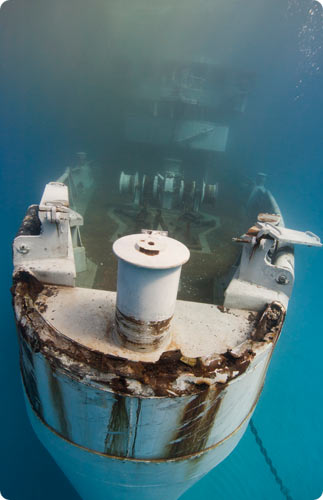 USS Kittiwake, Grand Cayman, Cayman Islands
Launched in 1945 by the US Navy as a submarine rescue vessel, the USS Kittiwake was decommissioned in 1994 and later sunk off Seven Mile Beach on Grand Cayman Island to create a new artificial reef. It now lies at depths between 13-65 feet (4-20 metres), making the wreck not only accessible to divers of all levels, but also snorkelers.
There are five different decks to explore, including a huge smoke stack, crew quarters, a mess hall and engine rooms. The warm waters and incredibly clear visibility make it one of the island's most popular dive sites, and although the artificial reef is still in its early stages of development, it is attracting a fascinating spectacle of marine life – even a whale shark has been spotted nearby!
SS Thistlegorm, Red Sea, Egypt
Built in 1940, the SS Thistlegorm served as a British armed Merchant Navy ship for only a year, before being sunk in the Red Sea near Ras Muhammad Reef. The wreck shot to fame in 1956 when National Geographic published images of Jacques-Yves Cousteau's dive mission, recovering items from the Thistlegorm that included the ship's bell and the captain's safe. Today it is one of the world's most popular wreck dives, easily accessed from the dive resort of Sharm el-Sheikh.
The Thistlegorm lies at depths between 45-95 feet (14-29 meters), making it accessible for divers of all experience levels. A large section of the ship was blown away by the German bombs that sank the ship, and there is a staggering amount of cargo to see, including trucks, rifles, bomber tail planes, and even steam locomotives. In addition to the war-time intrigue, the Thistlegorm also attracts plenty of marine life, including scorpionfish, stonefish, crocodile fish, moray eels and sea turtles.
Fujikawa Maru, Truk Lagoon
Built in 1938, the Fujikawa Maru was a merchant vessel that served as both a cargo and passenger ship between Japan/China and the Americas, before being requisitioned by the Japanese Navy in World War II as an aircraft transport vessel. She was struck by USS Monterey planes and torpedoes in the Pacific's Truk lagoon in 1944, and now lies on the ocean floor at depths between 15-120 feet (5-37 meters).
Coral has encrusted large areas of the Fujikawa Maru, attracting a diverse array of reef fish species and tropical marine life, and the remaining wartime artefacts include fuel drums, gun decks and an engine room, meaning there is plenty to explore.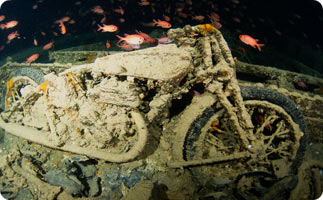 USS Liberty, Bali, Indonesia
Accessible from the beach shore of Tulamben in Bali, the USS Liberty is Indonesia's most famous wreck diving site. This World War II cargo ship was torpedoed by a Japanese submarine in 1942 out in the Lombok Strait, but managed to make its way to the shores of Bali where it remained until 1963. A volcanic eruption on Gunung Agung forced the Liberty back into the water, where it now lies on its side at depths between 15-130 feet (5-40 meters).
Coral has grown over the entire vessel, attracting plenty of tropical reef fish, white-tip reef sharks, scorpionfish, nudibranches and immense bump head parrot fish. But it is exploring the nooks and crannies of the huge Liberty wreck during night dives that makes it a real standout.
'Pete's' Bi-Plane, Rabaul, Papua New Guinea
This Japanese World War II aircraft, affectionately known as 'Pete's' Bi-Plane (after the allied code for the Mitsubishi Zero aircraft), lies beautifully preserved off the coast of Rabaul in Papua New Guinea. The cockpit, complete with controls and instruments, can be still be seen, as well as the engines, propellers and the Japanese 'rising sun' emblem.
Both hard and soft coral now cover the plane wreck, while tropical marine species, such as triggerfish, rays and moray eels, make frequent visits to the dive site. It lies in an upright position at a depth of around 100 feet (30 meters) and is one of a number of fascinating World War II wrecks that litter the sea floor around Rabaul.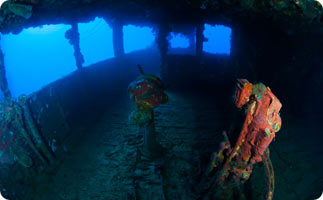 Hesperus/'Turtle Wreck', Bimimi Island, The Bahamas
The Hesperus wreck off Bimimi Island in the Bahamas is a former cement barge that was sunk with all of its cargo, including bags of cement now hardened along the seagrass bottom. It has become a firm favorite with underwater photographers because of its shallow depths (lying at between 20-35 feet (6-11 meters), and is commonly referred to as 'Turtle Wreck' because of the large numbers of loggerhead turtles that visit the site.
Schools of barracudas, reef sharks, triggerfish and stingrays are also commonly spotted, while night dives often reveal lobsters, as well as the occasional hammerhead shark.
El Aguila, Roatan, Honduras
Translating as "The Eagle", this cargo boat was sunk in 1997 to create an artificial reef off the coast of Roatan, Honduras. It originally sat upright at a depth of 100 feet (30 meters), but the force of Hurricane Mitch in 1998, followed by Hurricane Wilma in 2005, have left the wreck in three separate pieces.
The collapsed structure has resulted in plenty of fascinating swim-throughs, and time has enabled a dense coral growth which attracts king crabs, parrotfish, groupers and two huge resident green moray eels. A nearby coral wall makes for an interesting ascent, and the night diving on El Aguila is considered particularly impressive, when lobsters and hogfish emerge from their hiding holes.
Preparing For A Wreck Scuba Diving Vacation
While some wreck dives require special certification and a high level of dive experience, others can easily be explored by beginners along their exteriors at shallow depths. If you have your own underwater torch, then bring it along (or hire one), not only for your safety, but also to explore the intricate details of the wreck. Good buoyancy is necessary if you are scuba diving in any confined space, and pay special attention to the dive briefing so you are aware of the wreck dive conditions and all entry/exit points. Never penetrate a wreck without proper training or equipment.