This year marks a significant milestone for us! For 20 years, our customers have enjoyed exceptional, well-organized dive adventures all around the world.
The root of our success is in what we have in common with our clients; our owner Petra Hermes remembers, "We purchased a neighbourhood travel agency in North Delta in 1997, and immediately decided to specialize – what better niche market than combining our own passions for scuba diving and adventure travel!"
We started by knocking on the doors of dive shops in the Greater Vancouver area, exhibiting at meetings of local dive clubs, hosting events with respected dive operators, and direct mail. Today we work with over 50 dive shops across North America and travel agencies as well as provide custom trips for private groups, clubs and individuals.
Watch the video below for a personal anniversary message from our owner Petra Hermes.
We have organized adventures for our clients in every corner of the world – from Antarctica to the South Pacific, the Indian Ocean to South Africa, from Iceland to Micronesia, and the Red Sea to Southeast Asia.  Beyond our specialty of premium dive travel packages, we are also a full service IATA accredited travel company, providing access to the travel industry's best tools and product offerings. This includes airline tickets, travel insurance, sightseeing, and hotel and car bookings. We also work with all major liveaboards, dive resorts, and dive operators around the world.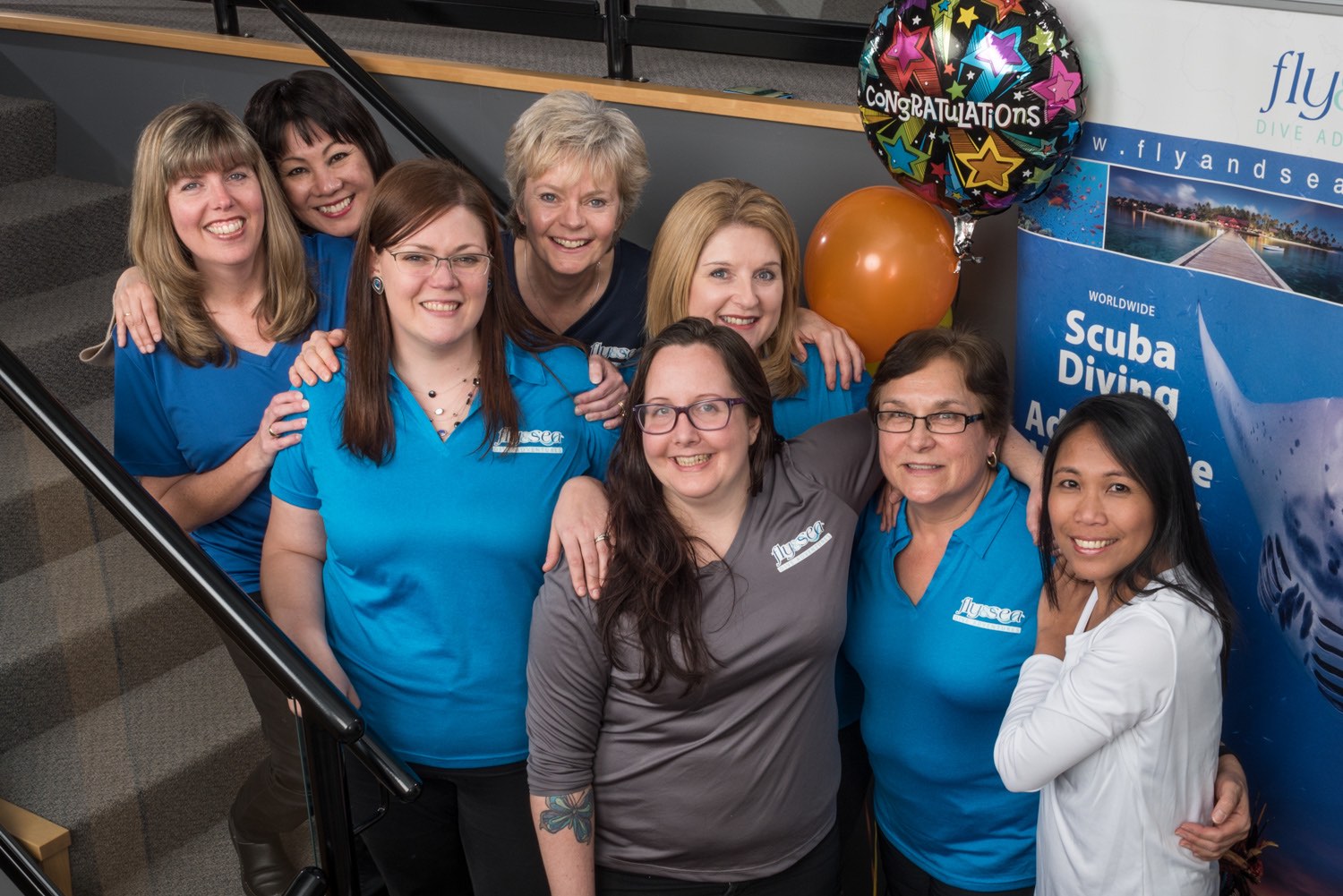 "After we hosted a few group trips of our own," recalls Petra, "we quickly recognized the importance of working closely with dive shops for both their group trips as well as individual travellers.  Our close partnerships around the world are a big part of our lasting success.  Now on our 20th anniversary, I'm so proud of Fly & Sea's staff and business partners, and am grateful for all our clients who've trusted us to send them on unforgettable adventures around the world.
We've come a long way since we started, have weathered many changes in the travel industry, and are very excited about our future as we continue to grow.  To this day we are driven by the desire to deliver exceptional vacation experiences to our clients.  We cater to divers who are looking for unique experiences, while knowing their travel plans are in the hands of a team of travel professionals who care deeply about a seamless and hassle-free vacation experience".
To celebrate our 20th anniversary, we will be launching several events, contests and giveaways throughout the year.  Watch for announcements here on our website, on our Facebook page and in our e-newsletter.