Situated around 65 kilometers from the northern coast of Venezuela, Curacao is the largest of the three ABC islands, which are Aruba, Bonaire and Curacao. The focus of this article gained independence from the Netherlands in 2010, but visitors will still find plenty of evidence of this Caribbean nation's colonial past.
While the exact origin of the island's name remains debated, the fact that Curacao is a Caribbean paradise is not. The island boasts over 35 spectacular beaches, lush green interiors and beautiful pastel buildings of pink, gold and blue. Many visitors remark about the very "European" feel of the place, which is unsurprising since the island was colonized by Europeans and changed hands many times before finally ending up as a Dutch colony.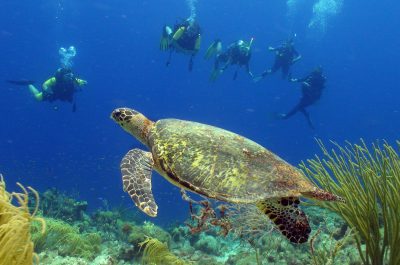 However, Curacao isn't just a delight above the water. There are over 60 different dive sites to explore around the island, with the majority of sites accessible from shore. There's also a great party vibe, an impressive foodie scene and generally something to be found and enjoyed by every kind of traveler.
8 Interesting Facts for Traveling to Curacao
Curacao's official language is called Papiamento, which is a unique blend of Spanish, Portuguese and Dutch with a hint of English and French thrown in. This blended language is a living reminder of the island's indigenous and colonial history.
Similar to the island of Bonaire, Curacao has a population of resident flamingos. They can often be found throughout the island with resident populations located on the salt pans and the waters of Rif-St Marie.
The capital city of Curacao, Willemstad, is actually a UNESCO World Heritage site. This impressive place features a range of Dutch colonial architecture, including houses in a variety of eye-catching colors. The city also includes the Queen Emma Pontoon Bridge or Pontjesbrug,' which is a hinged, propeller-driven crossing that can be moved if boats need to pass through.
Curacao is famous for its variety of corals. These include elephant ear and tube sponges as well as the "double bed" coral, given the name because of its comparable size. During August to October, it's also possible to observe a natural phenomenon known as coral spawning, which only occurs a few days after the full moon.
Because Curacao is part of the ABC Islands, it lies in the far southern reaches of the hurricane zone. Therefore, Curacao is rarely affected by hurricanes and is an excellent choice for a Caribbean dive vacation during hurricane season.
One of the top wreck dives in the Caribbean can be found just off the coast of Curacao, just off Curacao's main pier. The MV Superior Producer met its fateful end just after setting sail with a full cargo of whisky, perfume and clothing. After news of the sinking spread, locals retrieved' all the cargo. Today, the boat sits on its keel at around 30m, making the site ideal for advanced divers.
While it may sound like something you expect to find on land, the Mushroom Forest is another of Curacao's most famous dive sites. The name comes from the hard coral formations, which, as you may have guessed, resemble giant mushrooms. They are also home to an abundance of marine life waiting to be enjoyed.
Of the 7 species of sea turtle, 5 live in the waters surrounding Curacao. While you are less likely to come across leatherback turtles, who prefer deeper water, it's possible to see many of the other species while snorkeling or diving around the island. Popular spots for underwater turtle encounters include Playa Lagun Beach, Klein Curacao and the sunken tugboat at Caracasbaai.
Does a vacation in Curacao sound like paradise to you? Click here to read more about this Caribbean island.
If you're ready to dive into Curacao, we can help arrange your scuba diving trip, get in contact via phone or email today!