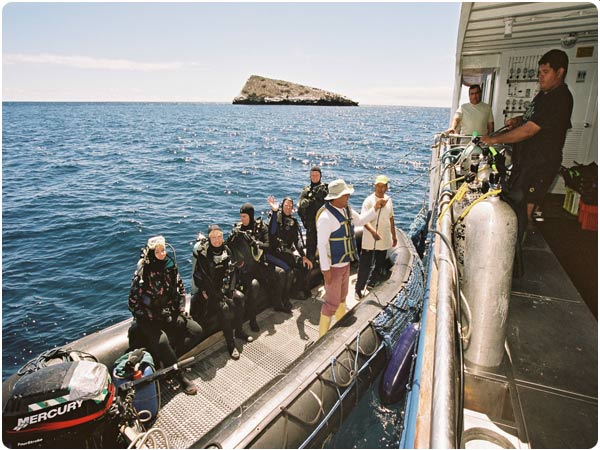 Exploring the incredible wildlife and stunning underwater beauty of the Galapagos Islands often represents a dream come true for the avid scuba diver. Naturally, you'll want to get the most out of your Galapagos scuba diving vacation and know what to expect before you go. The good news is that with its equatorial location, and its inviting tropical climate, there's no such thing as a bad time for Galapagos scuba diving vacations. When you decide to go really depends most on what you want to see.
In order to see schooling hammerheads and Galapagos sharks this destination is known for, you need to get to the remote Wolf and Darwin Islands, which are only accessible via a Galapagos liveaboard.
If Liveaboards are not for you, there are still great landbased dive options, either just staying on one island, or with an island hopping experience. Should you be travelling with a non-diver, or have more than one week for your vacation, we definitely recommend adding a few more days on the main islands of Santa Cruz, Isabella and Floreana, to experience the stunning wildlife of the Galapagos Islands.
The Galapagos Seasons
There are basically two diving seasons in the Galapagos region: December through May (wet), and June through November (dry), though they often tend to blend into each other. While liveaboards cruise this warm and humid archipelago throughout the year, each of the two local seasons offers its own particular highlights. Divers should bear in mind that despite the pleasant climate, the Galapagos water temperature has a wide range and vary from site to site. Regardless of when you choose to go, you should be prepared for variable marine conditions.
Cool and Dry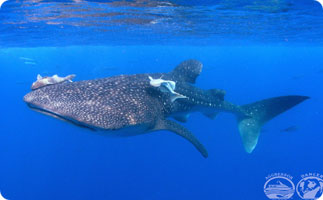 Many visitors firmly believe that the best time for a scuba diving vacation in the Galapagos is in the latter half of the year, and during the months of July through October specifically. This is undoubtedly because of the very strong chance for multiple encounters with the magnificent, 10-meter (35-foot) whale shark, as it migrates through the region.
You should be aware however, that while the months of June through November do see less rain, it's typically a cooler period with water temperatures in the 19-23oC (66-73oF) range, and choppier seas. A 5mm to 7mm wetsuit is recommended for this time of year. Those who tend to chill easily may be more comfortable in a dry suit, especially if you are diving multiple times per day. Also, because it's the best time to view whale sharks, these months are often considered Û÷peak season' for Galapagos scuba diving and especially Galapagos Liveaboards, which are booked often years in advance.
Out of the water, the drier season makes a great time to ask your scuba diving travel agent about adding a tour of the famed Machu Picchu ruins in Peru to your travel itinerary. This ancient Incan citadel is set high in the Andes Mountains, and is best enjoyed outside the region's less comfortable rainy season.
Warm and Wet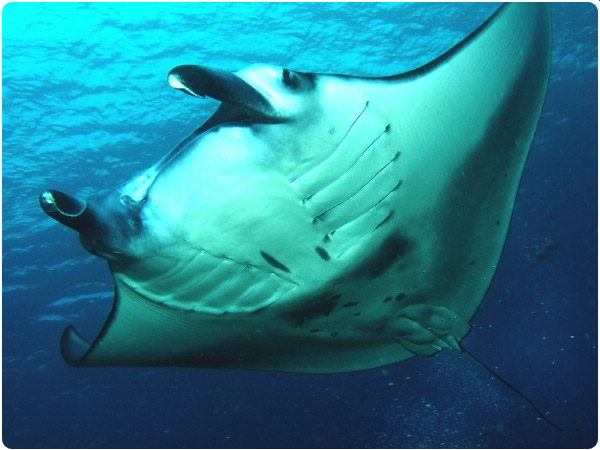 The trade-off you'll enjoy by diving the Galapagos during the wetter season, from December through May, is found in calmer waters and warmer temperatures that range from 20-25oC (68-77oF). There's usually less wind topside at this time of year, and the warmer season offers outstanding opportunities for encounters with such grand pelagics as the hammerhead shark and the graceful manta ray.
As a matter of fact, these months are collectively known as Û÷manta season' in the Galapagos, and they boast a tremendous increase in the activity of many ray species in addition to the giant manta. Divers can expect to see sizeable groups of mobula, marble, golden, spotted eagle, and cow-nosed rays around the islands at this time.
Although it's known as the rainy season, this period actually features lots of sunny skies with only brief, but impressive downpours each day. Divers often find themselves able to enjoy the Û÷off-season' excitement of many of the Galapagos sites in little more than a shortie at this time of year.
Galapagos scuba diving is recommended for the advanced diver with a minimum of 100 logged dives, familiar with currents and comfortable with choppy conditions.