Diving in Truk Lagoon is any wreck enthusiasts holy grail; the wrecks are show stopping and offer fabulous dives steeped in WWII history. This metal graveyard is the result of the WWII US attack on the Japanese naval and air base on the islands that circle the lagoon. This operation, code named Operation Hailstone, severely damaged the Japanese war-making capabilities and assisted the allies greatly in their theatre of war.
Today these wrecks offer a glimpse of history, unlike any other museum you may have visited on land. More than 60 wrecks litter the ocean floor, and this is just a taste of what's in store for you on your diving vacation to Truk Lagoon. Your scuba diving travel agent will be able to answer more questions and help you plan your trip to dive Truk Lagoon; so read on and then drop us a line and we can help you submerge yourself in history.
Fujikawa Maru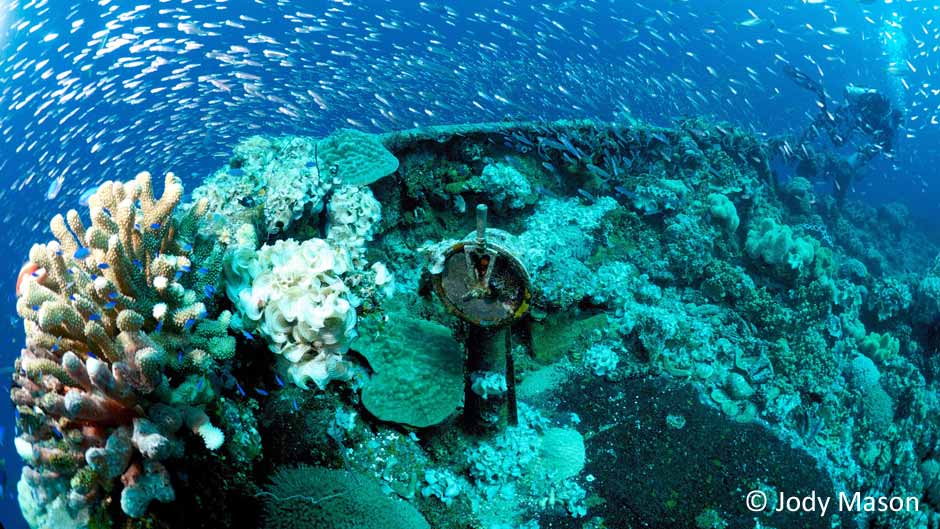 This vessel is large. At 430ft (130m) long there's a lot to explore. As an armed cargo ship, she has guns on her aft deck, and six holds containing war materials like aircraft wings and fighter propellers and the telegraph is still intact on deck. Before the attack, she had just unloaded the disassembled bombers which sat impotently and were destroyed in Operation Hailstone. She rests upright on a sand bottom at 110ft (34m) depth rising to 15ft (5m) from the surface.
Shinkoku Maru
The Shinkoku Maru is regarded as one of the most colourful dives in the area due to the abundance or corals, sponges and hydroids; it's also a night dive second to none. As a tanker, she participated in the Pearl Harbour attack but succumbed to the watery depths during Operation Hailstone, but only after two days of attacks and two aerial torpedo hits. Apart from the colourful coral, you'll notice many artifacts in the medical bay and galley. Her diesel engines are huge, and she has guns fore and aft.  Depth range; 32ft (10m) – 125ft (38m)
Suzuki Destroyer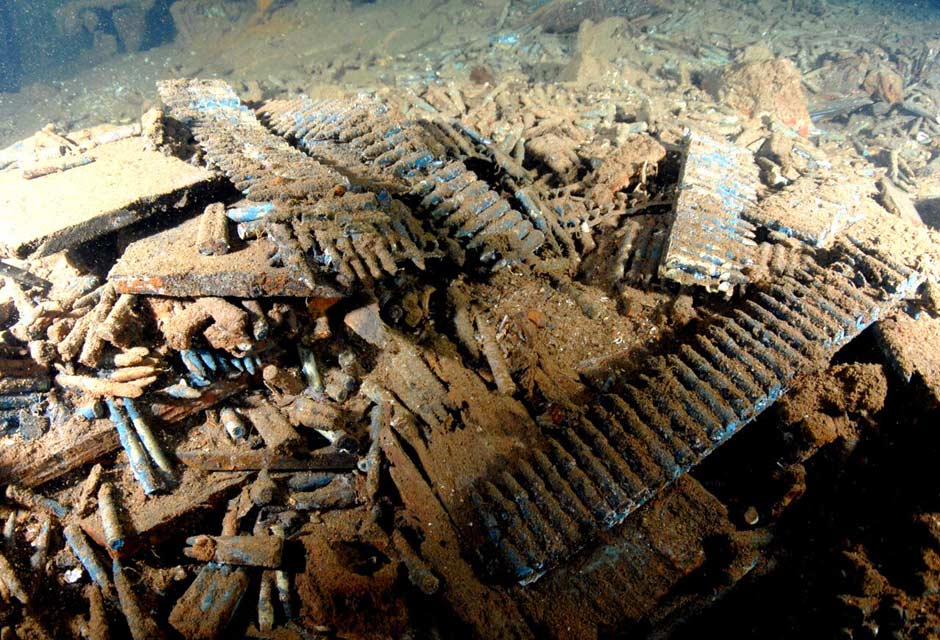 Best known for its engine room and gas masks, this shallow wreck is a great addition on any trip to dive Truk Lagoon. Unfortunately, many of her artifacts have been removed, but you can still spot some scattered around.
Depth range; 10ft (3m) – 50ft (15m)
Nippo Maru
This great dive is a little deeper and packed with WWII artifacts.  With a largely intact bridge, helm and superstructure and boasting a tank, a truck, gas masks, ammo, guns, mines, shell casings and many marine inhabitants, this is one of the big ticket dives.  She rests upright on the bottom with a slight list to port. The bottom is 155ft (47m), and the superstructure rises to 90ft (27m).
Heian Maru
Once a passenger/cargo vessel she was pressed into service as a submarine tender. A torpedo to the engine room caused a terrible fire which ultimately sent her to the depths. At 510ft (165m) long this is the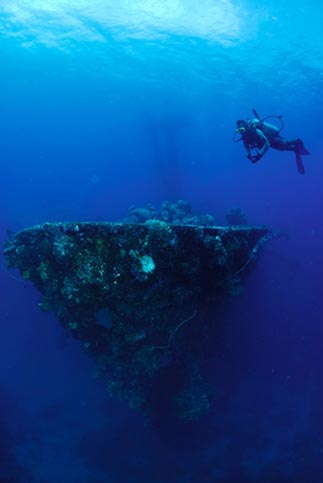 largest vessel on the lagoon. She lies on her port side in 150ft (34m) of water. Used as a cargo ship you'll find torpedoes and shells in her holds.
San Francisco Maru
At 195ft (63m) deep, this wreck is out of reach for recreational divers. However, if you have a tech certification, your rewards are many with some great relics including tanks, mines, trucks, bombs, depth charges and much more.
Hoki Maru
This vessel is impressive for the sheer amount of construction gear aboard which is in surprisingly good condition. Originally belonging to New Zealand, she was captured by the Japanese and set to work as a transporter for war materials. The forward holds were carrying aviation fuel which naturally caused a massive explosion. The aft section is crammed full of bulldozers, trucks, steam rollers, dump trucks and tractors. Divers can enjoy swimming through a large torpedo hole to explore her wares. Depth range 50ft-80ft (15-24m).
Rio de Janeiro Maru
Lying on her starboard side in 110ft (34m) of water this monstrous sized vessel has some fascinating features.  Huge guns, massive diesel engine through which you can swim, ample supply of Saki, wine, china and ammunition. Being reasonably shallow the coral and sponge growth is very colourful. This wreck is a must for photographers.
Sankisan Maru
This dive is popular and boasts colourful swaying anemones on her deck and a sponge encrusted mast. While her aft section is gone, most likely to an explosion, what remains in her cargo holds include aircraft engines, medical supplies and trucks. Depth range 50-80ft (15-24m).
Bombers, Fighters and Flying Boats
It wasn't just ships that succumbed to the watery depths during the wrath unleashed in Operation Hailstone.  Aircraft met a soggy end too, and there are a handful to explore which make a refreshing change from ship-shaped metal reefs.
Shark Island
While you are likely to see sharks at any number of wrecks, Shark Island is a popular reef shark cleaning station which offers the perfect antidote for those who are a little wrecked from so much metal. Simply drop down to 60ft (18m) and enjoy the relaxation of watching nature at its best.
With so much to see why not let us help you plan your scuba diving vacation to dive Truk Lagoon? Having whetted your appetite with choice, let us know what interests you and the type of diving you want to do and we can help you choose the right option for you to enjoy your scuba diving vacation to Truk Lagoon.
Check out these Liveaboards that are offering dive trips here:
Or if a land based stay is your preference, ask us for Blue Lagoon Resort
Contact us today to book your Truk Lagoon Dive Vacation!