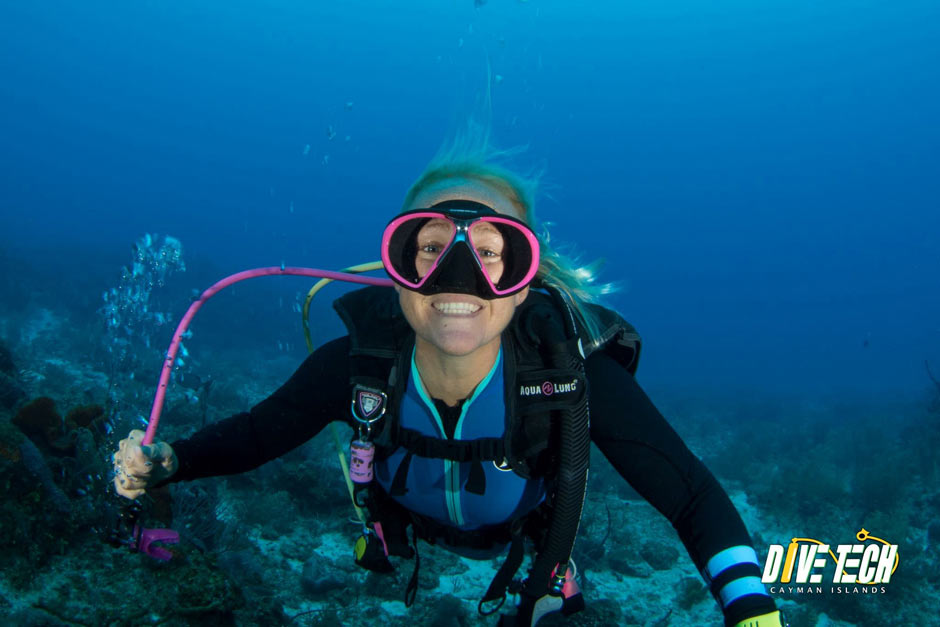 In celebration of PADI's Women's Dive Day this year on July 15th, 2017, we decided to highlight a specific woman in the dive community. We wanted to chose someone who stood out in the crowd, and works hard to not only be an amazing example of women in the dive industry, but also supports women. With so many to chose from, this wasn't an easy task. But a recent familiarization trip to the Cayman Islands, gave one of our group coordinators, Lindsay McGuire, a chance to meet the owner of Divetech.
"The first thing I noticed about this dive operation was that it was well-organized" says Lindsay. "When we arrived at Lighthouse Point Dive Resort, there was a plethora of tanks being loaded onto the boat, and there was an excellent space with benches for gearing up which was shielded from the heat of the sun, as well as fully-stocked dive shop to poke around onsite."
Meet Pinky Jo
Joanna Mikutowicz, also known as Pinky Jo, is a fierce, blonde woman with a large presence, despite her small stature (don't misread that, this woman clearly works out). She is friendly, confident, and doesn't appear to have an ounce of shyness in her. She presents as a strong and determined young woman who cannot be pushed around. It feels safe to assume she runs a tight ship, with a "work hard, play hard" type mentality. It is also clear she has a fondness (and we don't say that lightly) for pink. In such a male-dominated industry, Jo is a fresh burst of pink light, in a sea of blue.
We had a chance to interview Jo recently and asked her to tell us her story. It's not everyday that you meet a strong young woman running a large dive operation, and by running it, we mean she's the one behind the desk answering emails, but she's also loading tanks onto the dive boat as if they were as light as a snorkel.
What Lead You to Start Diving?  
My dad.  He was/is a big diver and always used to bring me and my brother on trips to Grand Cayman.  The first couple of years I was a bit afraid to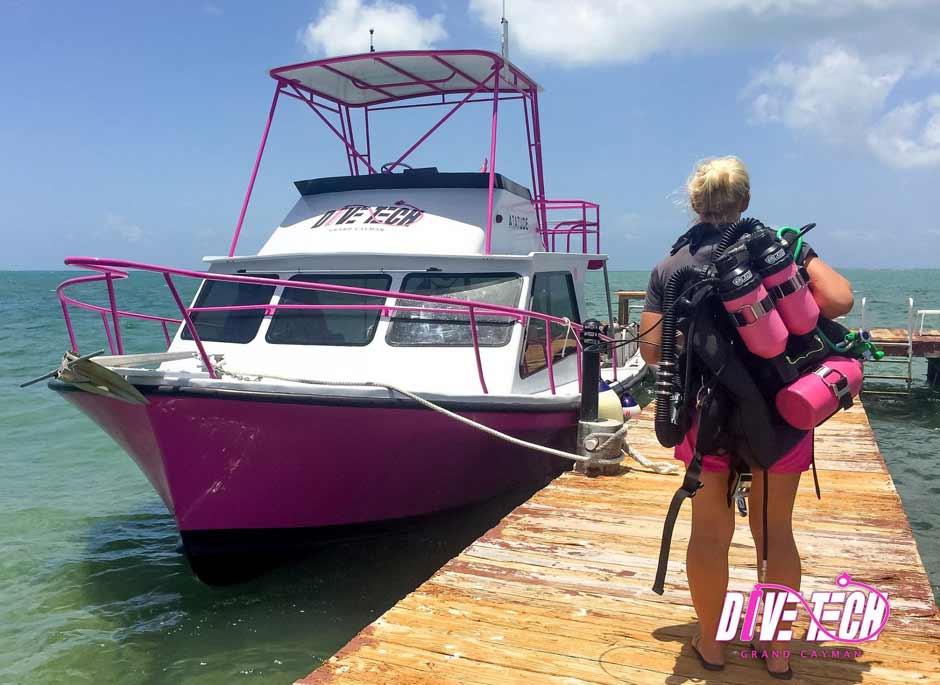 try it so stuck to snorkelling but one year he convinced me to give it a try and I loved it!
How Did You End Up Owning a Divetech – a Technical Diving Operation on Grand Cayman?
I have been diving with Divetech since 1997 and when I finally moved to Cayman full time at the beginning of 2012 I started working for them.  I am one of those people that always needs to be working towards something and learning new things and taking on new challenges.  I had spent 7 years in Hawaii before Grand Cayman, working in the diving industry and made my way up through Course Director which was my goal when I was there.  My first 3 years in Grand Cayman I learned a lot of new things like driving the boats, rebreather diving and Freediving.  When I reached that point of  needing a new challenge I didn't want to leave Cayman and I knew the previous owner of Divetech (Nancy) was looking to retire.  So I thought owning my own dive company would be  a great new challenge and I already knew so much about the company and the diving industry in general it just all seemed to fit.
What Has Your Experience Been Like, Working In A Male-Dominated Industry?

 
I eat men 🙂 It doesn't bother me. I have just continued to be me and just own it and I find that most men really respect that. I had tremendous support from all of our male divers (technical and non-technical) when I decided to re-brand the company colors to pink. I have had nothing but respect jumping into the water on a rebreather, guiding men over the deep Cayman wall who have been doing it way longer than me.  Sure there are those men who won't let me carry their bags or stop me when I pick up a tank or like to note that they have been diving since before I was born, but I think you will get that in any industry; I just ignore it.
What Is the Best Advice You Have For A Woman Interested in Tech Diving?
DO IT! And you CAN do it!  Its such a different experience and such a great new challenge.  The diving community itself is pretty small but the woman in Tech diving community is even smaller and its such an amazing group of woman that always build each other up and support each other rather than try to tear each other down. Aside from learning new skills and exploring new parts of the underwater world you will make lots of new girlfriends that cheer you on.
Is Divetech Doing Anything to Promote Women's Dive Day?
Absolutely!  We will be taking out the pink boat on an afternoon dive charter with an all woman crew and all proceeds will be going to the Cayman Islands Cancer Society to support cancer.
Have You Always Had the Fascination With Pink?
Yup 🙂 Its just always made me happy, which is maybe weird that a color can make you happy. White, black and beiges are boring and pink is just such a happy color and really draws attention.  Its not going anywhere anytime soon 🙂
Is There Anything Else You Want to Share With Us?
I am just really excited to see how many woman are now involved with the diving industry and tech diving.  Several years ago, there were hardly any and now some of the greatest cave divers, tech divers, underwater explorers, dive shop owners are women and I'm really proud of them.  To any woman out there feeling intimidated by the "male-dominated" fa̤ade of the diving industry, don't be shy. Get in there, be awesome and you will be wildly successful.
We thank Jo for taking the time to share this information with us, so we can share it with you, and for hosting Lindsay for lunch and a few exceptional dives in Grand Cayman.
For more information about scuba diving in the Cayman Islands, click here.
About Divetech and Lighthouse Point Dive Resort
Divetech operates out of 2 resorts on Grand Cayman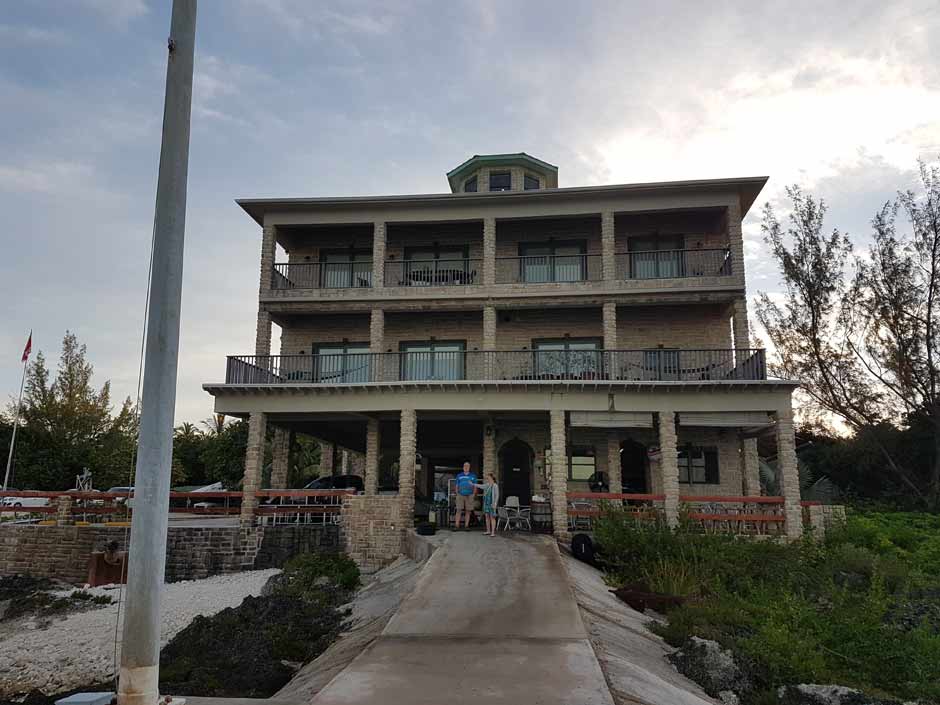 island, and runs beginner classes all the way up to advanced technical and rebreather training. If you are looking for technical diving on Grand Cayman, Divetech is the way to go. Whether it's freediving, or sidemount support, a diver propulsion vehicle rental, rebreather rentals or training, you will find it ready and available at Divetech. Your request will be paired with a friendly and informative staff member ready to help get you set up. We highly recommend requesting Mr. Drew Mcarthur, if you have a choice for who you wish lead your dive experience. Ask about the Lionfish Hunter course available and become certified to cull lionfish. It's a great way to enjoy your dive and help the environment at the same time.
When we met Jo, we dove out of Lighthouse Point Dive Resort in West Bay. The resort itself is nice and simple on the outside, which leaves the condos inside, an unexpected surprise to the guest. The photos certainly do not do it justice. Incredibly spacious and luxurious is the first impression, with deep, rich, dark wood furnishings and beautiful clean linens, the living space is open-concept, modern and comfortable. It smells clean and fresh, and you feel spoiled walking through and exploring the condo. Fully equipped kitchens, and large dining areas which are great for entertaining are a nice bonus. The penthouse condo features a turret at the top of a gorgeous dark-wood spiral staircase; an exceptional spot to take in the views of the turquoise Caribbean ocean lapping at the iron-shoreline.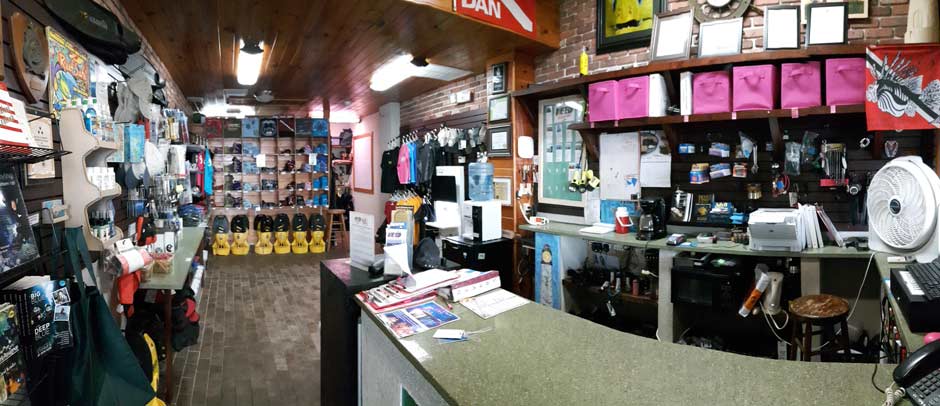 Make sure you take the opportunity to refuel your body at Vivo Caf̩ & Restaurant, a healthy choice restaurant onsite at Lighthouse Point Dive Resort. Their menu features gluten-free, dairy-free, vegan, vegetarian, organic and sustainable options. Virtually all ingredients are homemade and/or locally sourced. Try the Spiced rum infused French toast served with homemade berry compote, with a side of coconut bacon!
For more information about Divetech or Lighthouse Point Dive Resort contact us at 1-888-995-3483.