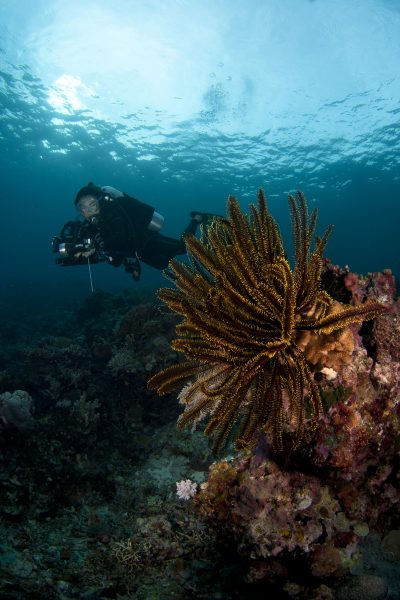 Sprawling in the middle of the Sulu Sea, Tubbataha Reef is a UNESCO World Heritage Site and one of the most impressive dive destinations in the Philippines. It boasts an incredibly high density of marine species (more than 1,000 have been recorded), as well as spectacular walls, extensive lagoons and important nesting sites for hawksbill and green sea turtles. More than 350 coral species and around 600 fish species have been documented here, together with 11 shark species and large numbers of dolphins, whales and manta rays.
Hammerhead sharks, barracudas and napoleon wrasse are among the species spotted, together with clownfish, Moorish idols and parrotfish. Moray eels can often be seen hidden in dark nooks while whale sharks and tiger sharks have both been sighted cruising the open waters. Vividly coloured coral gardens are another highlight of diving at Tubbataha Reef, together with dramatic walls that drop to around 330 feet (100 meters) in depth.
Since being "discovered" by divers in the 1970s, the Tubbataha Reef has been celebrated as one of the most remarkable coral reefs on Earth and is regularly ranked among the top dive sites in the world. But due to its isolated location, it can only be visited on a liveaboard cruise during a short period each year.
Protected within the Tubbataha Reef Natural Park, it's around 150 kilometres southeast of Puerto Princesa (the capital of Palawan), which is the departure point for liveaboard cruises. Due to the rough sea and diving conditions, liveaboard departures only take place during three months of the year, from mid-March until mid-June. During this period, you can expect clear skies, calm seas and visibility anywhere from 100 to 150 feet (30 to 45 meters).
After flying to Puerto Princesa from Manila, the journey by boat out to the reef takes around 10 hours. Most liveaboards depart in the evening so that you can be in the water on your first dive the following morning. The majority stay for around four days before making the return journey, although you can find longer itineraries. Keep in mind that during Easter and the Asian holidays of "Golden Week", liveaboards can book out well in advance!
Dive tourism plays a key role in protecting Tubbataha Reef for future generations, with conservation fees providing vital funds that are needed to protect the park from illegal exploitation. Income generated by park fees also goes towards education campaigns in the Philippines to increase awareness and support for the reef's protection.
Top dives sites at
Tubbataha
Ree
f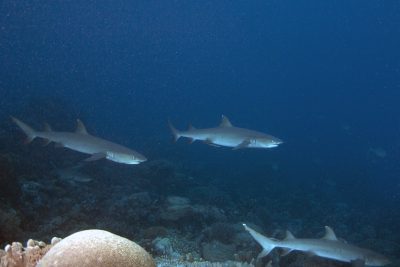 Black Rock
Situated in the northeast corner of Tubbataha's South Atoll, the Black Rock is a magnificent, sloping plateau where whitetip sharks are regularly spotted. It's also famed for the two titan triggerfish that are regularly seen by divers here.
Shark Airport
Shark Airport is a wide plateau that's frequented by whitetip sharks, as well as hawksbill and green sea turtles, pufferfish and moray eels. It's a popular spot for night dives due to its relatively shallow depth.
Malayan Wall
Named after the Malayan shipwreck that's encountered at the start of the dive, this dramatic wall dive is known for its schooling hammerheads and other pelagic species. It ends at a coral reef where large sea fans, barracuda and moray eels can be encountered.
Washing Machine
Situated at the northeastern edge of Tubbataha Reef, this dive site is named for the changing current directions that are often experienced during dives. It boasts exceptional visibility, with a spectacular diversity of tropical fish to admire.
Wall Street
This sheer wall plunges into the deep blue of the Sulu Sea and is one of the most popular wall dives on Tubbataha Reef. Napoleon wrasse and groupers are regularly spotted here, together with occasional sightings of whale sharks.