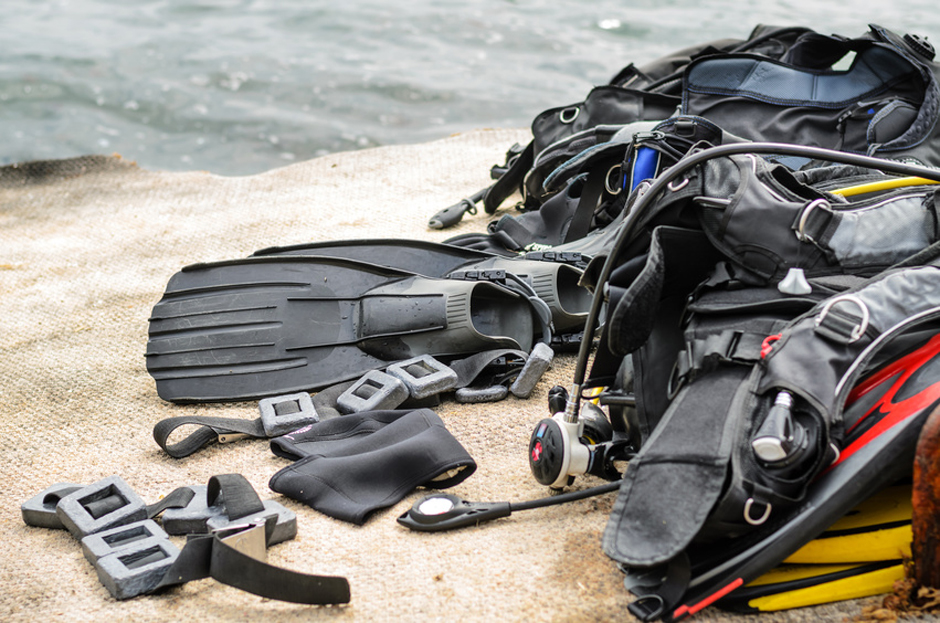 Your scuba diving vacation is booked, and now your mind turns to packing. Should you bring your own dive gear with you or hire at your destination? It's probably one of the most common questions we get here at Fly & Sea. Ultimately, the decision should be made taking in a variety of factors. Read through our pros and cons before making a decision.
Advantages Of Bringing Your Own Dive Gear
No Gear Hire Costs: Resorts will sometimes charge upwards of $20 the rental of a wetsuit per day. These costs can add up, even if you get a "Scuba Set" package that includes a mask, fins, BCD, etc.
Familiarity: Unless your gear is brand new, you will have built up a certain amount of familiarity with it. This means no awkward fiddling looking for the dump valve or strange contortions trying to get air out of a BCD to which you're unaccustomed.
Comfort & Fit: You bought your gear for you, to fit your body. It's likely snug, comfortable and the perfect size, which clearly might not be the case with rental equipment. Those who fall into the XXL or XXS size categories, have likely struggled to find gear to fit, and it's likely that you will have the same problem if you leave your gear behind and rely on what's available at your destination. Nobody wants to be distracted from their dive because they are so uncomfortable.
Style: Do you want to be diving in 50 shades of neon or would you like the photos of your scuba diving vacation to feature your style and matching gear? Some resorts don't update their gear regularly, which could mean that a neon pink disaster awaits you.
Well Maintained: You are responsible for your gear's maintenance. Do you have any idea of the of the condition of the equipment where you are going to rent? A good scuba diving travel agent will have vetted the operations they are selling, which helps. However, your dive travel agent may not have been to the resort in question and perhaps hasn't seen the dive gear in person.
Ease: You won't have to waste time trying on and sorting out gear on arrival. You can stash your gear and dash straight to the pool bar.
Disadvantages Of Bringing Your Own Gear
Carrying it: Taking it with you means schlepping it around from house, most likely involving stairs, to the car, to the airport, etc., etc.
Excess luggage charges: Airlines differ in their policies. Some do not charge for an additional bag of dive gear, some do. Check the airline's website for the most up to date information.
Maintenance and Spares: If you take your own gear, you are responsible for its upkeep so not only do you need your gear to be ready and fully serviced, you do need to bring some spares too.
Getting it dry: For anyone who has ever travelled with scuba gear, no more words are needed here. If this is your first time, understand that it is likely that your gear may be packed wet and therefore heavier than you would like, and it may still need drying when you get home.
Ultimately, the decision is going to be based on personal preference. While cost is always a factor, try not to let this be the deciding factor. Do strongly consider your level of comfort. If you are travelling to a new location with different conditions to what you are used to, will you be more at ease in your own gear? We can always help you go over the pros and cons of bringing your gear vs. renting at destination. It's part of what we do as your travel agent!
While we can admit, we at Fly & Sea are not exactly neutral on the subject, (we think every diver should own their own gear and – we could write a completely separate article on the benefits of that alone!) it is a very common question and the answer is not always obvious. It's worth noting that as a diver, you'll always be more comfortable using your own familiar dive gear. Your local dive shop will have the expertise to advise you on what is right for you (as in: lightweight gear if you mostly travel with it), and they will also be able to regularly service it for you. This will ultimately make you a safer diver. PLUS: you will be supporting a local business (and shopping local), which we believe is an important piece to consider.