Diving is a wonderful and exciting activity that the whole family can do together. It encourages new forms of discovery, involves physically activity and most importantly allows the family to share a special bond and experience together, all beneath the surface. With that being said parents often ponder what types of rules, restrictions, and safety guidelines to follow with getting their child certified for diving.
First ask yourself, is your child interested in scuba diving and comfortable in water? Are you unsure if this is something they are even capable or able of doing? Here we have outlined some of the know hows and rules for getting your child certified for diving.
Teaching Kids to Scuba Dive
There are a variety of kids's scuba courses that exist. Most major dive organizations allow children as young as 8 to learn to scuba dive in a pool. PADI offers a Junior Open Water certification for children ages 10 and older, which they may upgrade to full Open Water Diver certification upon reaching 15.
Types of Kids Scuba Diving Courses & Programs
Bubblemaker & Seal Team Programs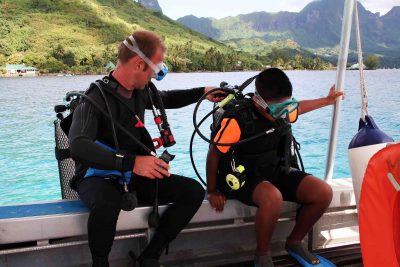 A good way to introduce and know if your child (ages from 8 to 12) are ready for scuba diving is to have them take part in the Bubblemaker (PADI), SEAL Team (PADI) and Scuba Rangers (SSI). The Bubblemaker is exactly how it sounds – a chance for kids 8 years and older to blow bubbles by scuba diving. The students in these courses are confined to shallow waters (no deeper than 12 feet) for a one day experience where they learn how to use scuba gear, clean a regulator and mask, all while learning the do's and don'ts of breathing and diving.
The Seal Team program is a more extensive pool program for kids eight and older that covers basic scuba diving skills in addition to fun activities such as taking underwater photos, practicing buoyancy and learning environmental awareness. The students are confined to shallow water (usually no deeper than 12 feet or 4 meters) in a highly-controlled environment such as a swimming pool.
Junior Open Water Diver Course
This course is very similar to the adult certification program where they must read the same material and take the same examinations and prepares kids to become full-fledged divers when they are of age. To begin the program, students must be at least 10 years old and be able to swim confidently unassisted. We are referring mostly to PADI's rules, as they are the most widely spread dive shops in N. America.
A child who successfully completes the open water course will receive a "junior" certification. A junior certification can be upgraded to an adult certification at age 15 without further training.
Junior Advanced Open Water, Junior Rescue & Junior Master Scuba Diver Courses
After receiving a junior open water certification (which includes five specified dives, including a deep dive), young divers twelve to fourteen may continue to increase their experience and certification levels – there are some restrictions that will follow. To do so they must complete their Junior Open Water, Junior Advanced Open Water, Junior Rescue, certifications in five PADI specialty courses, and log 50 dives.
Here is a list of the courses and ages as to which young divers can take:
Junior Advanced Open Water: Ages 12-14
Junior Rescue: Ages 12-14
Junior Master Scuba Diver: Ages 12-14
Up until age 15, all divers are referred to as "junior," no matter how many certifications or dives they achieve prior to their 15th birthday. After the age of 15, depth and buddy restrictions default to those of a regular PADI Open Water Diver.
Where is the best place to get your child certified?
All PADI Dive Centers and Resorts worldwide adhere to the same training standards and regulations. The same is true for SDI-TDI affiliated dive centers, SSI affiliated dive centers, or NAUI dive centers, just to name a few. Decide where the best place for you is by contacting your local dive shop to find out what options are available.
At the end of the day, the decision of whether or not your child is ready to pursue diving as a sport lies with the parent and child themselves. We know just how fun and rewarding the experience and activity can be – happy learning!