Diving with the "Big Stuff" is almost every diver's dream. It leaves you breathless from the rush of adrenaline. We will travel to the ends of the earth to see a school of mantas, or to get up close and personal with a Whaleshark. Check out the top 10 destinations to dive with pelagics – where to go, broken down with what you'll see!
Socorro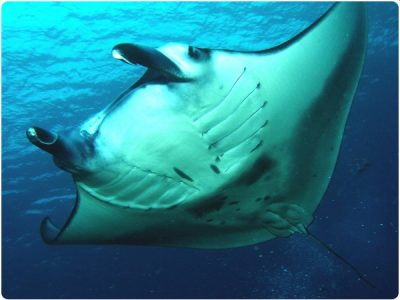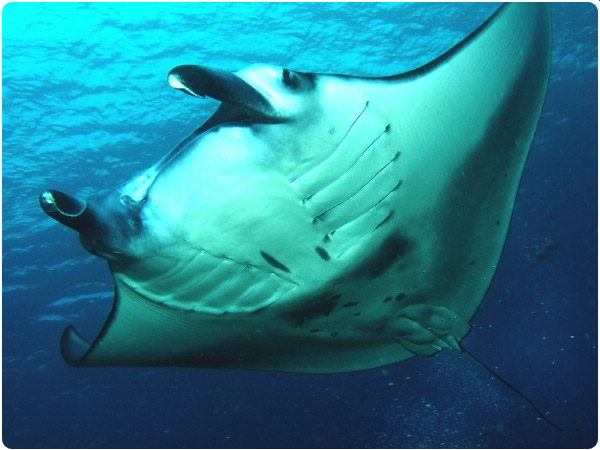 Socorro is the informal name for the Revillagigedos Archipelago, situated 250 miles south of Cabo San Lucas, and composed of 4 Islands. The most well-known, Socorro Island, is a heaven for "Big Stuff" diving. Aside from sharks, you can also encounter dolphins, Humpback whales, and enormous Yellow Fin Tuna. Socorro Island is only accessible by liveaboard.
Pelagics: Giant Pacific Mantas, Hammerhead sharks, Silky sharks, Silvertips, Galapagos sharks, Tiger sharks, Humpback whales, and Dolphins.
Best time to visit: Year round except August to September to see pelagics. For Humpbacks, January to March is the best time.
South Africa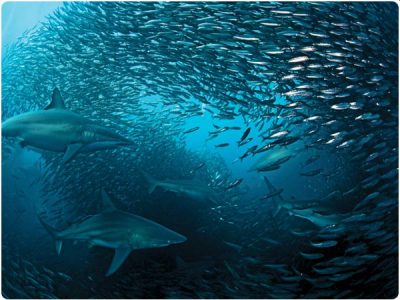 Aliwal Shoal is famous for the annual Sardine run. This annual migration of sardines up the eastern coast of South Africa, is an incredible experience with single shoals of sardines reaching over 7 km in length and a width of 1.5 Km. With this much bait fish in the water, it is truly predator nirvana. You don't just get to see pelagics, you get to stand back and watch them exhibiting feeding and hunting behavior.
Pelagics: Dolphins, Bull sharks, Blacktip Sharks, Dusky Sharks, as well as Tuna and occasionally Sailfish.
Best time to visit: May to July.
Mozambique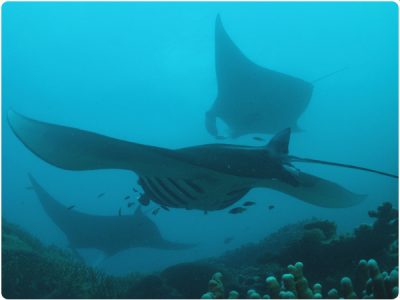 Mozambique has developed a reputation as a top diving destination for pelagics in the last few years. With some world class resorts, warm water and beautiful reefs, it is a paradise for divers and deal for a sunny winter break. Expect regular encounters with Whalesharks and mantas, and enjoy incredible visibility.
Pelagics: Whalesharks, Giant Mantas, Humpback whales, Hammerhead sharks, Turtles
Best time to visit: Year round although best conditions are during the dry season which is June to September
Guadelupe Island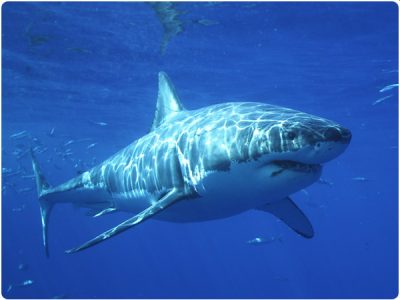 Guadelupe Island is a mere 165 miles off the west coast of Ensenada, Mexico. The Island shot to fame after the airing of the show 'Sharkmen'. It is now the premier destination for cage diving with the incredible apex predator, the great white shark. Unlike South Africa and Australia, encounters with great whites are almost guaranteed, and on average the local shark population is larger and more impressive than those encountered in Australian or South African waters. Recently, what is possibly the largest Great White shark ever discovered (6m/20ft) was filmed at the island. Guadalupe Island is only accessible by liveaboard.
Pelagics: Great White Sharks (Cage diving).
Best time to visit: August to October.
Utila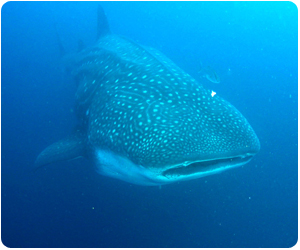 The third largest of the Bay Islands territory of the republic of Honduras, Utila has become a world famous dive destination. With the second largest barrier reef in the world, you can experience incredible encounters with gigantic graceful Whalesharks if you plan your trip right. Dolphin encounters are also common while diving in Utila.
Pelagics: Whalesharks, Dolphins.
Best time to visit: You can see Whalesharks year round, but your best chances are around of end of February, through March and April, and then again though in lesser amounts, around October, November and December.
Galapagos
Initially well known as the place where Charles Darwin first thought of evolution, the Galapagos is now known as a mecca for diving. With some of the best diving in the Pacific, encounters with immense numbers of pelagics are a certainty on almost every dive. With a strong emphasis on conservation and a restricted number of annual visitors, it is a bit of a challenge to get to, but probably the best if you are pelagic driven. The Galapagos is really the king of diving with "the big stuff".
Pelagics: Whalesharks, Hammerhead sharks, Galapagos sharks, Silky sharks, Turtles, Giant Mantas, Barracuda and more.
Best time to visit: Year round, but Whaleshark season is typically June – November.
Palau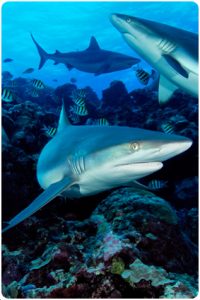 The republic of Palau is a string of 500 islands in the pacific, and is renowned as a top shark diving destination. With an established shark sanctuary (the first of its kind in the world) encounters with various large pelagics are almost guaranteed. Blue Corner is an incredible dive site in Palau. The thriving wall is host to many sea fans, eels and other coral life, while the deeper water allows for sharks and other larger sea creatures to venture near. If divers are venturesome enough to remain still, the sharks can get up-close and personal, making for great pictures.
Pelagics: Giant Mantas, Whalesharks, Tiger sharks, Hammerhead sharks, Oceanic whitetip sharks, Bull sharks, and Silky sharks.
Best time to visit: Ocean temperatures and visibility are fantastic year round, however January to April are the best times to capitalize on seeing as many pelagics as possible, including Whalesharks.
Maldives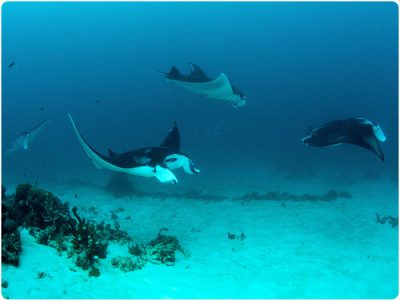 The Maldives, is a tiny archipelago lying Southwest of India, like a string of pearls scattered across the Equator over the deep blue Indian Ocean. The Maldives are home to spectacular beaches, private islands, and unbelievable resorts as well as phenomenal diving. Most diving is in channels between the different islands, which creates strong currents and leads to great encounters with many pelagics. The currents offer plenty of food for sharks, as well as manta cleaning stations.
Pelagics: Whalesharks, Mantas, Hammerhead sharks, Tiger sharks, and Oceanic whitetip sharks.
Best time to visit: November to May.
Cocos and Malpelo Islands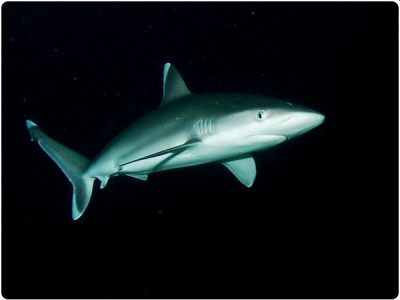 Situated nearly 300km from the coast, and a long 25+ plus hours sail, these islands are a little harder to get to. But once there you experience a world where nature rules, extreme with a frenzy of marine life big and small, schools of hammerheads and continuous encounters with pelagics. This is truly an experience to remember. These islands are only accessible by liveaboard.
Pelagics: Oceanic whitetip shark, Silky sharks, Hammerheads, Giant Mantas, and Whalesharks.
Best time to visit: year round although June to September has more encounters.
Red Sea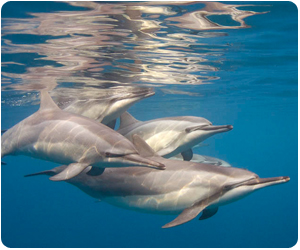 The Red Sea covers an enormous area with the best diving being in Egyptian and Sudanese waters. Within these waters the best sites for encounters with pelagics are the reefs on top of sea mounts. The Brothers Islands, Elphinstone Reef, Fury Shoal and St John's Reef are renowned for encounters with large pelagics as well as a stunning array of reef marine life.
Pelagics: Hammerheads sharks, Oceanic whitetips, Silky sharks, Silvertip sharks, Whalesharks, Blacktip sharks, Tiger sharks, Dolphins, and Mantas.
Best time to visit: February to April and September to November Whether you book a trip to dive with mantas in the Maldives, or Hammerheads in the Galapagos, you are guaranteed an incredible adrenaline rush from the experience. Unfortunately a lot of the pelagics we listed are endangered. There is a number of conservation efforts out there, doing what they can to support longevity in these animals. If you do book a trip to see them, and take away an unforgettable experience, consider making a donation to help ensure these magnificent creatures are around for our grandkids.