Truk Lagoon, also known as Chuuk Lagoon, is a wreck diver's dream come true, surrounded by warm tropical water. From its peaceful blue waters to the ghost fleet resting beneath the surface, technical and recreational divers find plenty of reason to flock to this island paradise. Whether you want to relax with easy diving or explore World War II history beneath the waves, Truk Lagoon will leave you wanting more. For that reason, we are featuring Truk Lagoon diving throughout this month.
So, where is Truk Lagoon? This diving paradise is a body of protected water found in the middle of the South Pacific. As a part of Chuuk State and, one of the four Federated States of Micronesia, Truk Lagoon lies 1100 miles northeast of New Guinea and 617 miles southeast of Guam. Chuuk includes 7 major island groups surrounded by a protective reef, creating a natural harbor.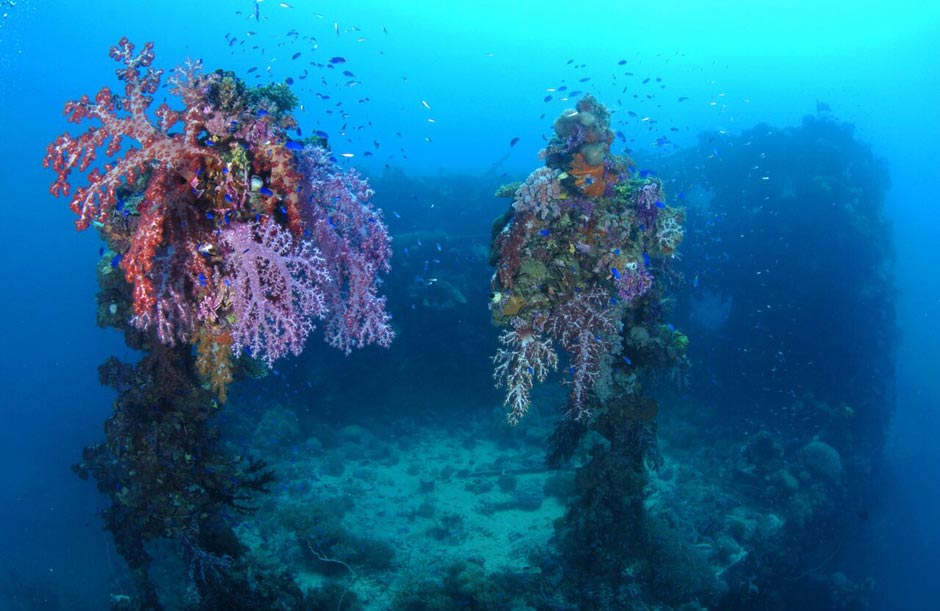 Truk Lagoon Interesting Facts
The Japanese gained control of Truk Lagoon following World War I, and were attracted by this natural harbor. In the years that followed, the navy of Japan made Truk Lagoon its main base of operations. From the beginning of the Second World War, battleships, aircraft carriers, minesweepers, cruisers, tankers, cargo ships, destroyers, tugboats, gunboats and submarines could all be found in the harbor.
In early 1944, Allied forces launched a naval air attack, as the concentration of ships at Truk Lagoon made it a natural target for the Allies. This operation, dubbed "Operation Hailstone" lasted three days and ultimately destroyed 12 small warships, 32 merchant ships and 275 aircraft, creating the largest graveyard of ships in the world.
Jacques Cousteau, William A. Brown and their team explored Truk Lagoon 1969, 25 years later. In 1971, Cousteau released a television documentary detailing his discoveries, sparking the imaginations of divers around the globe. 1973 brought the first established scuba diving operation to Chuuk, and since then, both scuba divers and snorkelers have been blowing bubbles in these South Pacific waters.
One of the interesting topside excursions is a lighthouse, which the Japanese built during their occupation. You will need a local guide to reach this abandoned artifact, rising several stories above the jungle, but the gorgeous views of the coastline will be worth the climb.
Today, more than 60 wrecks have been discovered and while many of these wrecks are deep enough to make tec divers drool, there are plenty of dive sites for recreational divers as well. Wrecks here start in only 15 feet of water. Non-divers will also enjoy the WWII history found scattered on the island.
The wrecks of Truk Lagoon are still being discovered, but the highlight that separate these from your local wrecks, are the fact that you'll find submarines, warships, aircraft, motorcycles, railroad cars and a variety of weapons. All sort of treasures await divers willing to make the long trek to Truk Lagoon, and amongst these sunken machines you'll find machine gun ammunition, medical supplies, aircraft engines, trucks, deck guns, torpedoes and submarine periscopes.
Other than Jacques Cousteau, a few other scuba divers you may recognize have visited these wrecks, including James Cameron, John Kennedy Jr., Bill Paxton and Steve Irwin.
Chuuk is a very poor country – don't expect luxury and 5-star resorts.
An Earthwatch team identified 266 species of reef fish in Truk Lagoon in 2007.
Environmental groups worry that the three oil tanker wrecks of Truk Lagoon will soon start releasing oil, causing an environmental disaster. However, experts believe there is little oil in the ships due to the dismal state of the Japanese military at the time of sinking.
All of the ships in Truk Lagoon are classified as Japanese war graves.
The first museum of Chuuk State was the Kimiuo Aisek Memorial Museum. It is dedicated to Kimiuo Aisek who witnessed "Operation Hailstone" at age 17 and opened Blue Lagoon Dive Shop, the first dive operation in Truk Lagoon.
Ready for your Truk Lagoon adventure? Click here to ready more about scuba diving in Truk Lagoon.