The ocean truly has a little something for everyone. For some people, it's colorful corals and beautiful reef fish and attracts them. For others, it's an underwater grave site.
Top 10 Unique Dives Worldwide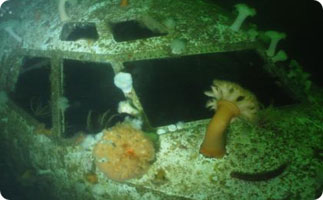 If you ever find yourself longing for a dive that's a bit different, something a little unique and unusual, you should know that there are plenty offbeat dives out there. Found in worldwide destinations, adding one of these dives to your next scuba diving vacation will bring you back to the excitement of being a new diver. From sunken airplanes to active volcanoes, here are 10 of the most unusual and unique dives to add to your diving bucket list today.
Amid Underwater Art: Cancun Underwater Museum
Just off the coast of Mexico, the Cancun Underwater Museum, or MUSA, has created an eco-friendly and amazingly unique dive. In a partnership between sculptor Jason deCaires Taylor and the Cancun-Isla Mujeres National Marine Park, more than 500 sculptures made of material to promote coral growth were placed up to 8 meters deep and over a total area of 420 square meters.  While snorkelers and glass-bottom boats may also visit the museum, divers have the unique advantage of closely exploring the new marine growth and photographing the statues.
Between Continental Plates: Silfra, Iceland
Silfra is the only place in the world to dive between two continental plates. Here, divers can explore the gap where the North American and Eurasian plates drift apart at a rate of 2 centimeters per year. The 100 meter visibility provided by cold glacial waters combined with the colorful aquatic grasses creates a unforgettable dive for those who aren't afraid of braving the icy waters.
Over an active volcano: Banua Wuhu, Indonesia
With the rumblings from Earth's movements far below and bubbling sulfuric gases in the background, divers can explore the wonderful world of an active volcano in North Sulawesi, Indonesia.  At Banua Wuhu, divers are welcome to get up close and personal with a volcanic crater that sits merely 8 meters below the surface.  However, divers don't come just for the novelty value. Banua Wuhu is also home to an impressive amount of colorful coral and tropical fish.
To the Center of the Earth: Bonne Terre Mine, Missouri
Its location may be unusual, but Bonne Terre Mine in Missouri is home to the world's largest freshwater dive resort. With perfect 30 meter visibility and 24 dive trails, Bonne Terre Mine offers divers the opportunity to explore remnants of mining operations such as an elevator shaft, staircases and oar carts as well as fantastic rock formations created by groundwater over time.
 Alongside the Coral People: Grenada Underwater Sculpture Park
Is diving with lifelike sculptures on your dive to-do list? If so, head to the Grenada Underwater Sculpture Park where artist Jason deCaires Taylor has created an underwater museum of six major installments. These statues serve two purposes; first, to draw divers away from the over-visited natural reefs. Second, to give visitors the chance to interact with art from a fish-eye point of view. Some say there is even a third purpose. That is to memorialize the slaves lost during the Middle Passage. However, this has never been confirmed by the artist, so you'll have to decide for yourself.
Into the Danger Zone: Nuclear Missile Silo, Texas
As an altitude dive (760m), wreck dive, night dive and deep dive, the Valhalla Nuclear Missile Silo not only offers plenty of training opportunities, but also the chance to say you've been inside an abandoned part of nuclear history.  Inside the silo, divers enjoy crystal clear water which constantly reads 15.5℃ on the thermometer. There is no aquatic life, but divers can spot remnants of nuclear operations that were left on the site between 15 and 40 meters. Those who live closer to the west coast should check out the Titan Missile Silo Dive in Washington.
Through Lost Villages: Mille Roches Powerhouse, St. Lawrence
Have you ever wondered what it might be like to find Atlantis? It's not exactly mythical, but you can discover an abandoned power dam (Mille Roches) along with several lost villages during a dive in the St. Lawrence Seaway. These sites were submerged in the 1950s during construction of the Seaway. Today, Mille Roches offers an advanced dive that will interest even the most skeptical of wreck divers.
Among the Dead: Neptune Memorial Reef, Florida
Located 3.25 miles east off Key Biscayne in Miami, Florida, the Neptune Memorial Reef has become an underwater cemetery, the first of its kind worldwide. But you won't find any floating bodies here (thank goodness!). Those who wish to eternally rest with the fishes are first cremated and then mixed with biorock material before being secured in the reef. Divers and relatives of loved ones buried at Neptune can visit the growing reef free of charge. There are already reports of a number of species inhabiting the reef, including spotted eagle rays, snappers, grunts and a few soft corals.
 Where the Skies Meet the Sea: Boeing 737 Dive, Chemainus, BC
For those divers who have always fantasized about a really unusual wreck dive, Cheamainus has the perfect solution. The local dive association has sunk a decommissioned Boeing 737 in order to create an artificial reef and habitat for the local depleted population of Red Sea Urchins. Today, divers can explore the hauntingly beautiful ins and outs of the airplane which sits 25 meters below sea level.
Underwater Hiking: Green Lake, Austria
From above, Green Lake in Austria looks like any picturesque, Alpen lake. From below, divers discover a different side of things. The lake, which reaches depths of 12 meters and sports several species of trout, is only a body of water for three months of the year, May to July.  The other nine months, the area is a lush meadow favored by local hikers.  The rare beauty of above-water scenes, replete with park benches and flowering plants, submerged in crystal clear water draws a plethora of underwater photographers every year.