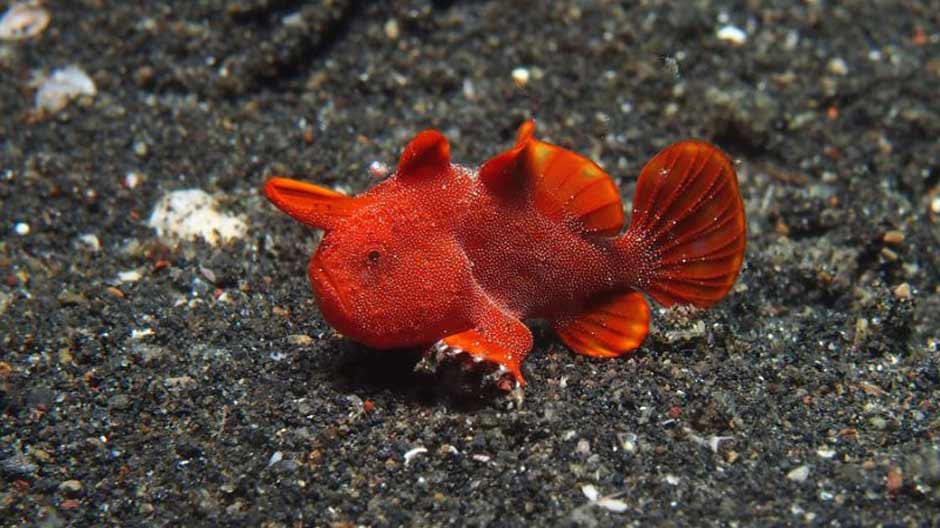 To the uninitiated, the phrase muck diving might make you think of diving in muddy, zero visibility water which might leave you wondering about all the fuss. This is most definitely not the case.
Muck diving usually takes place on what at first glance might appear to be a desolate, often volcanic, sandy bottom. Still sound uninspiring? Give it a chance. Muck dives involve slowly and patiently exploring the black sand for the creatures and critters that make their home there. It's a surprising and delighting type of dive that will reward you with the pleasure of finding the unusual, weird and wonderful marine life that grace the front covers of dive magazines. The gratification of the discovery cannot be underestimated and this is what brings divers, and underwater macro photographers back time and time again.
The epitome of muck diving is found diving Lembeh Strait. In Indonesia. Happily this area, which lies near Manado on Sulawesi, can be dived year around. December, January, and February are the wettest months which can affect the visibility however this is not so much of an issue for macro diving. It does mean fewer divers though! October to December has the best visibility but peak critter spotting months are July and August. There are many sites to explore and most lie just a few minutes from shore.
Like any form of diving, muck diving does have its own set of principals which you should be aware of to ensure a happy time for you and your fellow seekers.
Keeping the dive silt free is key to enjoyment, so keep those fins up and wear rigid fins if you have them.
Understand the dive procedure – you are likely to be spread out, noses to the sand with the guide searching and pointing out critters in turn for you to photograph.
It's a good idea to take a dive light for day dives as well as night dives, and you might want to consider a magnifying glass too.
If you're there for the images, then a good macro lens is essential, and a focus light will help too.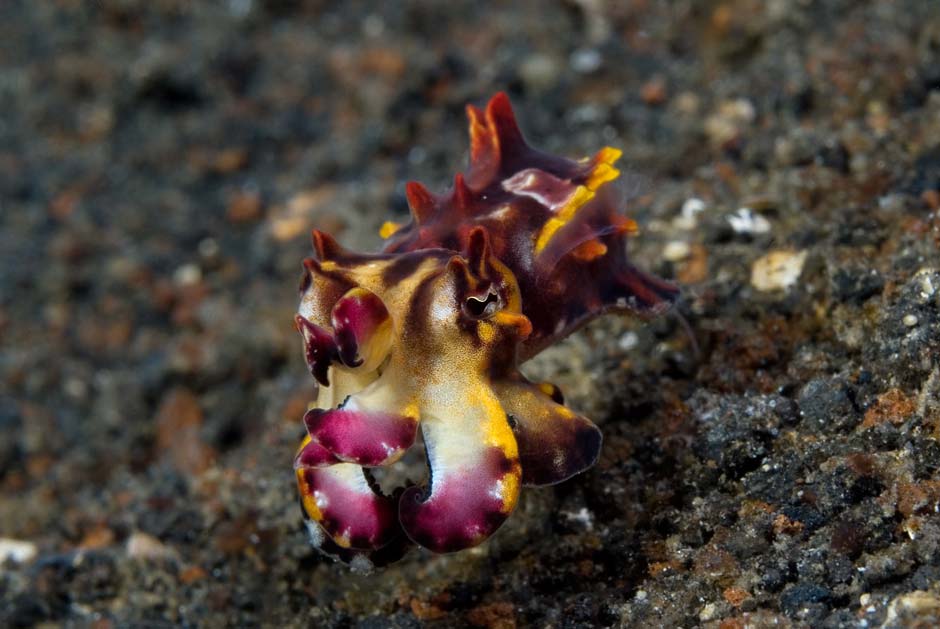 It also helps to cram before you jump in. Diving Lembeh Strait will be all the more enriched if you have an idea what you are looking for. Mantis shrimp and crabs, garden and ribbon eels, many varieties of frog fish including the hairy frogfish, stargazers, devilfish, stunning seahorses, flamboyant and (and other) cuttlefish, pipefish of many varieties, octopus including the mimic and blue ringed, so many nudibranch of all designs and a myriad of scorpion fish. Flick through any marine field guide and turn to those pages entitled rarities or oddities and those things you thought you would never see, you will while diving Lembeh Strait. You can't fail to be amazed and delighted at the variety of each species gracing the ocean floor. Some are so rare you might be one of a handful of divers ever to have seen them. An experienced guide is vital, and even these guys are regularly discovering new and exciting species and almost every dive.
The show doesn't stop when the sunsets either. If you've grown bored of night diving or think it's not your thing, then give it one more chance while you are there diving Lembeh Strait.
Of course, muck diving is not limited to diving Lembeh Strait. Anilao and Dumaguete in the Philippines, Ambon, and Bali in Indonesia are just a few other spots that have some great sites available for you to scour the bottom. It's not just tropical locations either. You might be surprised at some of the possibilities a lot closer to home. Critters love to hide and if you're the type of diver that has the patience to play nature's version of hide and seek for the reward of finding the surprising, muck diving might just put a whole new spin on that site that you thought had nothing left to offer you!
You may also be interested in "The Coolest Macro Critters to Look For".
If you are looking for an idea of a great dive vacation package where you can experience Muck diving at it's best, check out our Passport to Paradise dive vacation package.