Well, it truly all depends on what kind of vacation you want. Luckily, you have 3 islands to choose from, each offering a different experience and an interesting atmosphere to explore. The diving offered here is incredible, and each island offers similar conditions of calm, relaxing and easy Caribbean diving. It's the time you spend doing topside activities will likely be the best clue to decide which Cayman island is the best for you. Read on for a few highlights of each island.
Grand Cayman – The Best Cayman Island To Start With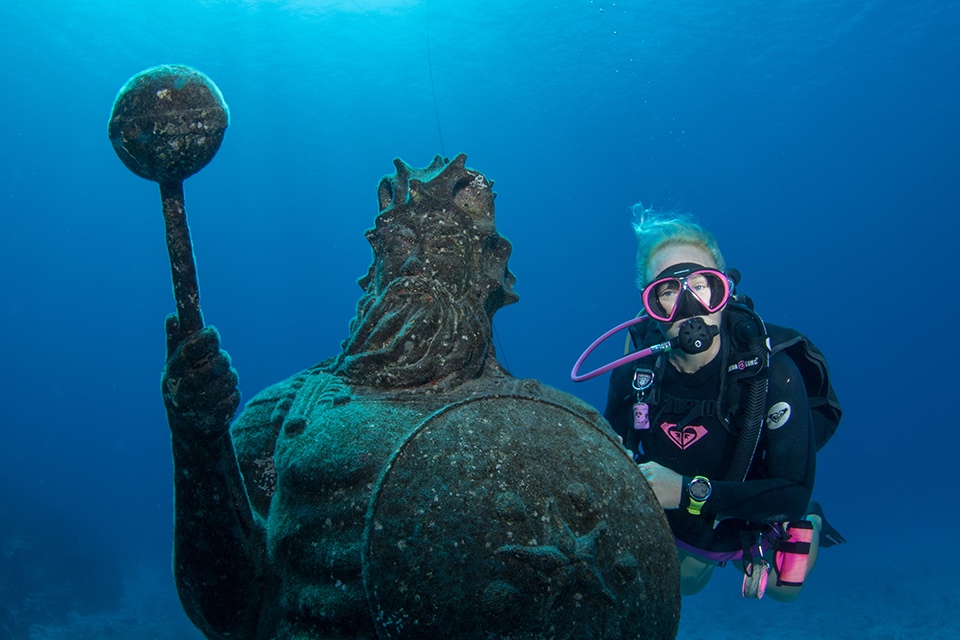 The biggest of the 3 Cayman Islands, and really, the most popular. Cruise ships stop here regularly, so there are plenty of easily accessible activities for all. Grand Cayman is large enough to keep you well entertained, and also spaced out enough to escape from the crowds if that's just not your thing. The diving here is the calmest of the 3 islands in regards to current, and it is exceptionally clean above and below the water. The famous Kittiwake wreck is not to be missed, and is also suitable for snorkelers. Here, you are never be far from beaches, shopping, tours, excellent food and watersports.
Food – This bustling island offers foodies endless opportunities to try freshly caught, local seafood. Cayman is becoming known as a real foodie destination, despite the fact that so much of the ingredients have to be imported. Known as the culinary capital of the Caribbean, you'll find over 200 restaurants here, thanks to 140 different nationalities that provide a very diverse culinary and cultural experience. If food is your thing, book a trip in January, during Culinary Month and take advantage of two food festivals: Taste of Cayman and/or Cayman Cookout. Don't leave the islands until you have sampled some crispy conch fritters or lionfish tacos, or have had a chance to enjoy a Sunday Brunch! Yum!
Beaches – This Island has the kind of beaches that dreams are made of. Check out Seven Mile Beach for white-sugar sand beaches, watersports, all within walking distance to food, shopping, and hotels. Go to Rum Point if you want something a little quieter, but still want access to amenities and check out Starfish Point for a truly picturesque experience.
Activities – There's no shortage of interesting things to do during those pesky surface intervals. Stingray City is a great option when you want to interact with marine life, but have to fly home the next day and it's fantastic for the non-diver in your life. There's also a turtle farm, gorgeous Crystal Caves, and plenty of shopping. While you are loving the heaven that is the Cayman Islands, but sure to also check out Hell. It's a visual attraction made up of a group of short, black, limestone formations resembling what we all would expect Hell to look like.
Cayman Brac – The Best Cayman Island For Adventurous or Nature Types 
Better for adventurous type looking for a bit more quiet than the excitement of Grand Cayman, but not total isolation. It is a more relaxing, go-at-your-own-pace type island where you'll find plenty to do at a slightly slower pace. There are no crowds here either, so those who appreciate the company of only a few others will enjoy Cayman Brac. The diving here is similar to Grand Cayman, but perhaps a bit more current sensitive, and you'll be rewarded with regular sightings of eagle rays, turtles, and incredibly beautiful colors of sponges and corals.
See the sights – Free nature tours are conducted by Nature Tourism Guides on Cayman Brac. The guides appreciate a gratuity once the tour is complete and they've shown you some of the interesting sights on the island. Limestone caves, birding, hiking and nature trails are all well worth exploring, and your wallet will love you for it.
Limestone Caves – Speaking of caves, Cayman Brac has a lot of them, and they are indeed worth a look. Check out Skull Cave if you dare. It is obviously shaped just like a skull, and if you are feeling brave enough to go in, don't forget to bring a flash light so you can see all the bats clustered together above your head.
Cayman Brac Museum – A quick stop here is nice compliment to your day of biking, beaching or touring the island. You won't need more than 40 minutes here, but it'll round out your understanding of the Cayman Islands and its history so you can return home with a bit of a deeper understanding of the lovely Caymanians and their "Caymankind"-ness.
Little Cayman – The Best Cayman Island For Solitude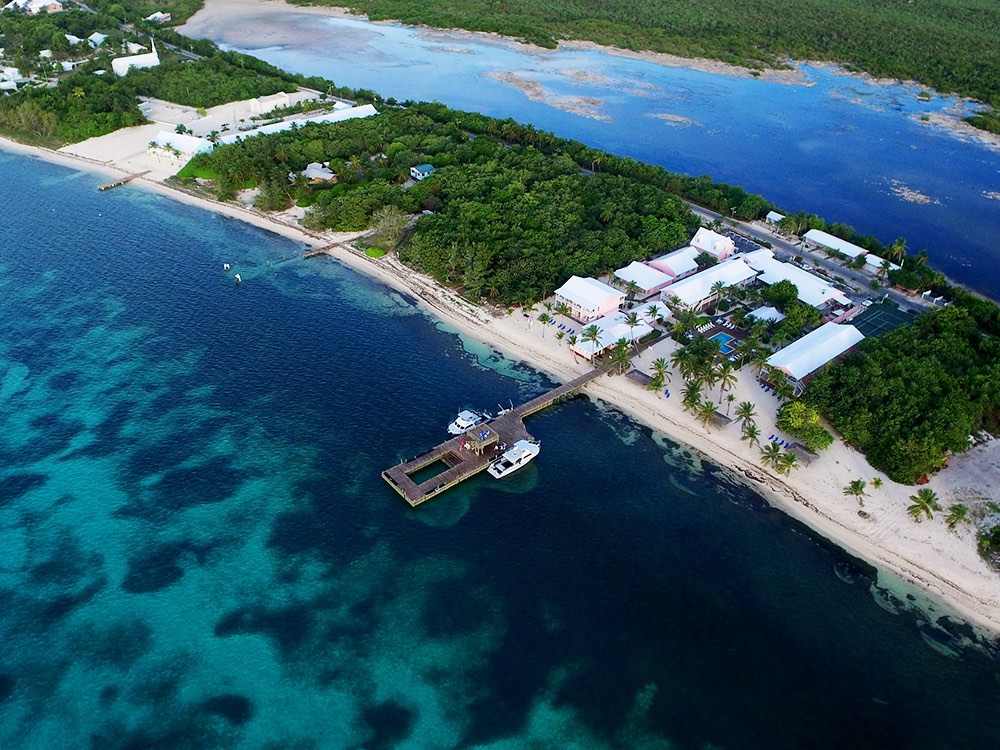 Little Cayman is a lovely, quiet little island with a population of less than 170. Only ten miles long and one mile wide, this is a place where you can truly focus on your opportunity to relax. It's the kind of peaceful place where you will make your own fun. Take a walk along the coast line or rent a bicycle and ride around the island. Relax on the beach with that amazing book you've been dying to read. Divers will absolutely love of the Cayman Islands' top dive sites here, called Bloody Bay Wall, known for its kaleidoscope of vibrant colour and life, and famous for its dramatic drop offs and swim throughs.
RELAX – in this day and age, it's hard to get away from it all, but Little Cayman is here to please. Take the opportunity to truly relax and take it one step further by turning off your phone for a few days. We promise, you'll feel recharged and ready to face the world when you return home. Whether your idea of relaxation is a couple morning dives, a nice afternoon of tennis or kayaking, or a poolside nap, Little Cayman is the right place to be if you want to be secluded.
Explore by Scooter – a popular way to check out Little Cayman is to rent a scooter and explore at your own pace. A lot of resorts and condos also offer bicycle rentals, and with an elevation of only 40 feet, you won't be too tired for a night dive at the end of the ride.
Wildlife – Little Cayman is home to the largest colony of Red-Footed Boobies in the western hemisphere. Along with 20,000 Red-Footed Boobies, this island is also home to around 350 magnificent Frigate Birds. You'll also get to see wild iguanas, parrots, lizards and land and sea crabs. Just take note that on all roads, iguanas always have right of way.
All three Cayman Islands are a guaranteed excellent dive vacation experience, but you should now have a better idea which Cayman Island is best for you and your travel partner. Click here to read more about scuba diving in the Cayman Islands.