As the largest of Honduras' Bay Islands, Roatan is a popular scuba diving destination – and for good reason. Here you'll find idyllic above the water scenes complemented by dramatic drop-offs, unique reefs and fun shipwrecks.
At the dozens of dive sites surrounding Roatan, you can expect to find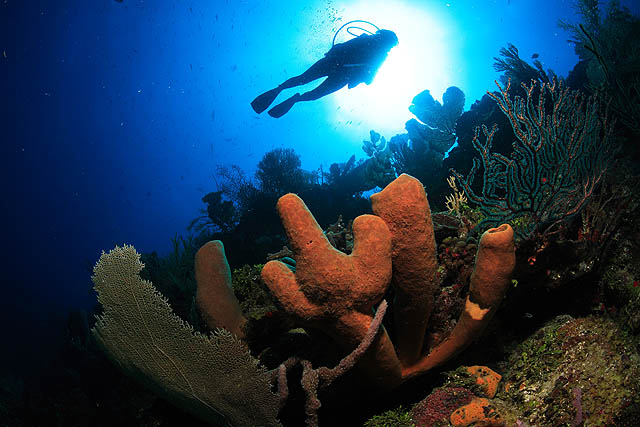 colorful reef fish populating healthy reefs. Dive down between the many crevices in the Mesoamerican Barrier Reef to find angelfish, surgeonfish, large black grouper, moray eels, crabs and more. You might also spot a nurse shark hanging out near the reef or eagle rays out in the open.
Of course, there's bigger stuff here too. Out at Cayos Cochinos, you might find schooling barracuda, Caribbean reef sharks, sea turtles and stingrays on occasion. Alternatively, explore the island's purpose-sunk wrecks. Mr. Bud, the Odyssey and the Prince Albert are all favorite wrecks among local divemasters.
If you aren't quite convinced that Roatan is the paradise you're looking for, check out these odd facts about the island. You just might fall in love with this Central American destination.
Roatan Interesting Facts 
Columbus first landed on the Bay Islands in 1502, and both English and Spanish settlers made their way to Roatan. However, by the 17th Century, more than 5,000 pirates lived on the island, including some famous names like John Coxen, Van Horn, Henry Morgan and Blackbeard.
The most common language on Roatan is Caribbean English even though the official language of Honduras is Spanish. This is because Roatan was an English colony for many years. However, more and more mainland residents have recently moved to the Bay Islands, making Spanish more prevalent.
As you make your way around the island, you'll notice that many of the beach homes are built on stilts. The reason for this unique building style is sand flies. These pests can only fly a few feet vertically, so they never bother the residents of these traditional houses.
Roatan sits on the lower section of the world's second largest barrier reef system, called the Mesoamerican Reef. This natural wonder stretches nearly 700 miles from Mexico's Yucatan Peninsula to the Bay Islands.
West Bay Beach on Roatan is one of the best beaches in the world. For two years in a row, TripAdvisor has ranked this white sand beauty as the best beach in Central America. It's no surprise that the travel experts feel that way. West Bay Beach offers plenty of powdery white sand to lounge on, snorkeling just offshore and dive sites mere minutes away.
One of the most famous dive sites on Roatan is Mary's Place. Located near Brick Bay, this site is easily recognizable by its vertical crevices formed by long-ago volcanic activity. You can spend the dive exploring these cracks and fissures, finding huge barrel sponges, spotted drum fish and a variety of other Caribbean creatures along the way.
In 1797, the British brought approximately 2,000 Black Caribs to Roatan. They established the settlement of Punta Gorda and later became known as the Garifuna people. Their descendants live there to this day and still speak the Garifuna language, create the culture's unique music and perform traditional dances. In fact, the Garifuna have been recognized by UNESCO as a World Intangible Heritage of Humanity.
Even though Roatan only measures approximately 40 miles long by 3 miles wide, it has over 400 registered taxis. It's even crazier that they all seem to stay on the west half of the island where most of the resorts are, so you'll never have to wait long for your next ride.
Convinced that Roatan is a diver's paradise? Click here to read more about scuba diving in Honduras.
If Roatan sounds like your kind of paradise, there are plenty of scuba diving resorts for those who prefer an underwater vacation with lots of relaxation between dives. Below you'll find our favorite resorts with full diving facilities.