Boasting the perfect marriage of natural beauty and biodiversity, Saint Lucia is a Caribbean jewel. It's surrounded by underwater walls, shallow shipwrecks and coral reefs that form a scuba diving paradise, too.  In particular, St. Lucia is famous as a honeymoon destination, but there's no need to have the wedding before arriving, especially for scuba divers. Dive in and get married under the waves in a ceremony no one will soon forget. In fact, this is the most popular destination in the world for underwater weddings.
If you've said "I do" but haven't yet earned your certification, you're in luck. Calm water, shallow dives and great visibility make St. Lucia ideal for beginners. But if you're more experienced and looking for a relaxing getaway, you're also in luck. This island is peppered with fully equipped dive resorts. Either way, you're going to love "Helen of the West Indies."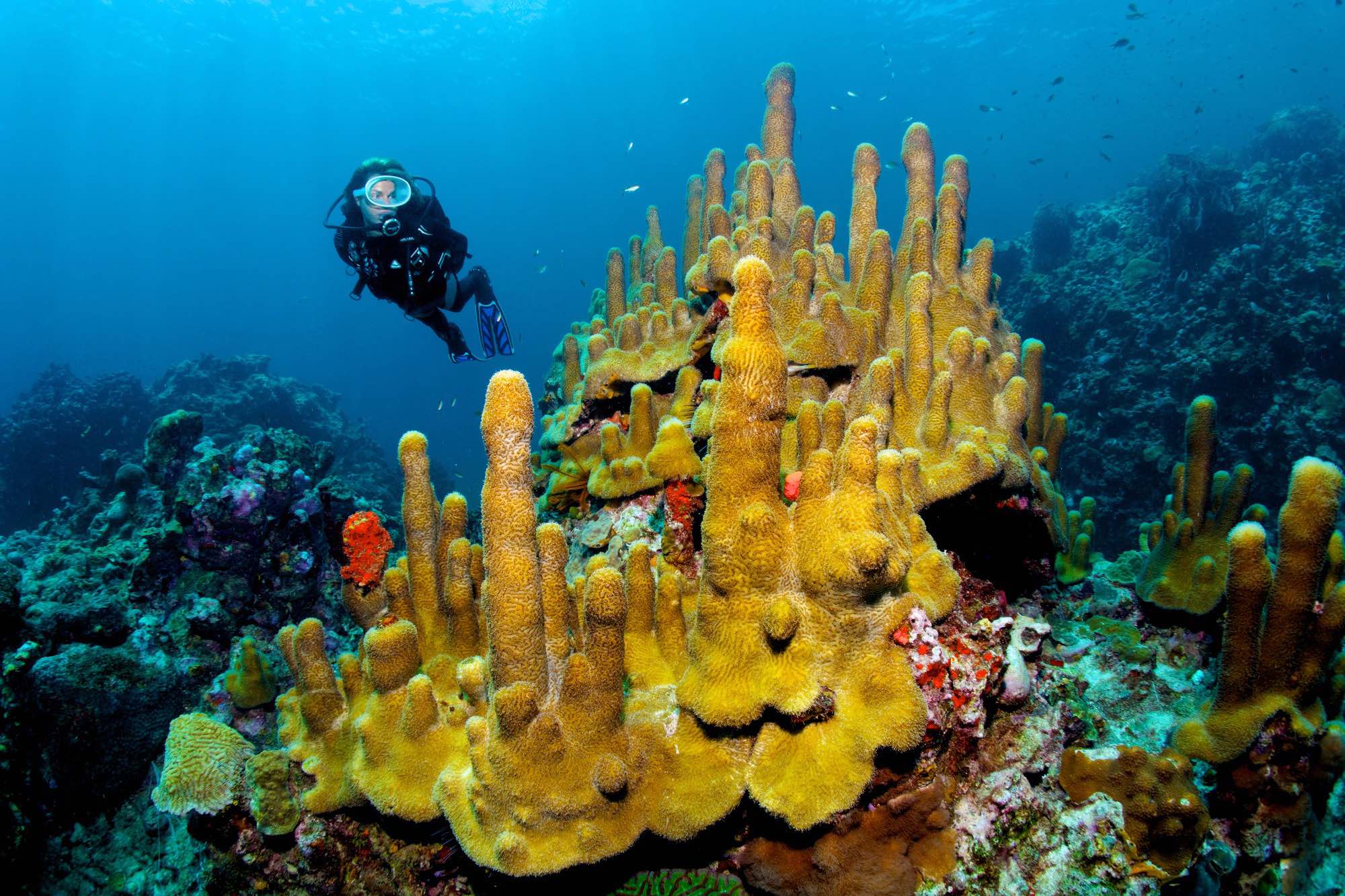 Saint Lucia Interesting Facts 
Saint Lucia is the only country in the world to be named after a woman. The name comes from Saint Lucy of Syracuse, and it was given to the island by French sailors who were stranded on the island on December 13th, the saint's feast day.
Even though it's tiny, St. Lucia has a UNESCO World Heritage Site. The Pitons are formed by two rock pyramids rising sharply from the sea bed. Between the two peaks lies the Piton Mitan ridges.
For 200 years, England and France traded Saint Lucia as a colony. From 1660 to 1814, each country controlled the island 7 times.
There are four diveable wrecks around Saint Lucia – 1 is well-known and 3 others are for advanced divers only. All 4 were purpose-sunk with the intention of creating artificial reefs but not necessarily for scuba divers. Of the wrecks, Lesleen M is the easiest to dive at 18 meters/60 feet.
Because of its long history, you can expect a varied culinary scene on St. Lucia. Flavors include those from West Africa, England, France and East India. Don't miss the fried or baked dough called "Johnny Cake," which is served with peppers, onions and fish.
Lucia's west coast is protected by the Soufriere Marine Management Area. This is split into 5 zones – fishing priority areas, marine reserves, multiple use areas, recreational areas and yacht mooring areas. To dive within the reserve, you'll need to pay a daily use fee.
The Saint Lucia Parrot is the only endemic bird to Saint Lucia, and it's the national bird of the country. It's scientific name is Amazona versicolor, so you know it's as beautiful as a rainbow.
One of the airports on the island, the George F.L. Charles Airport, has a runway so close to the water that it has to be closed when cruise ships sail past.
Ready to head to St. Lucia? Click here to read more about scuba diving around this island nation.
If St. Lucia sounds like your kind of paradise, there are plenty of luxurious resorts for those who prefer a dive-centric vacation with an excess of relaxation between dives. Below you'll find our favorite resorts with full diving facilities.