The Maldives is heaven for scuba divers. Manta rays, whale sharks and warm, clear waters invite divers
to explore the depths. A variety of sharks, huge schools of fish and healthy corals round out the underwater experience. Above the water, pristine sugar sand beaches, endless sunny skies and luxurious accommodations make topside hours just as wonderful.
Before we dive into the different atolls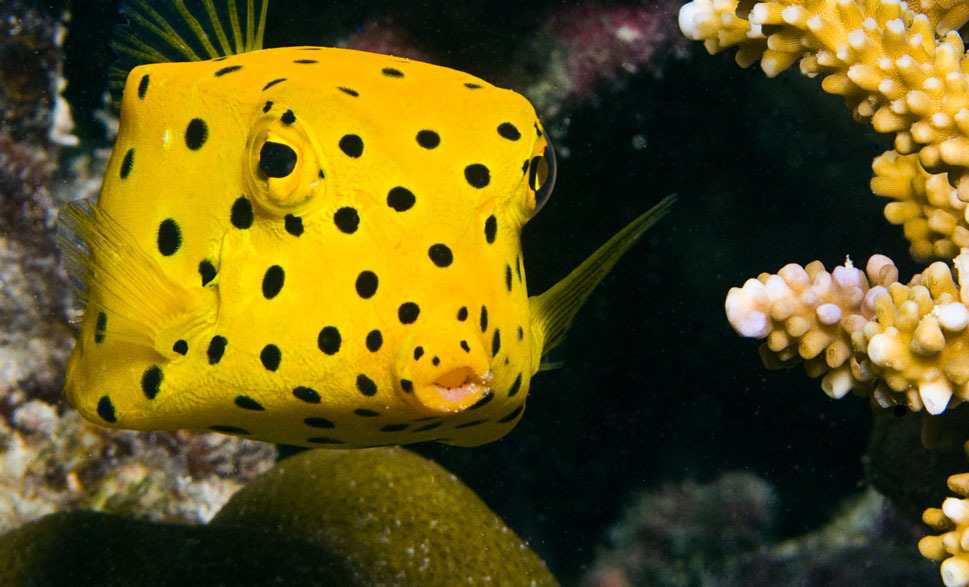 commonly visited by scuba divers, a bit of Maldivian lingo might help. In general, dive sites are made up of channels and pinnacles thanks to the country's unique geography. Locally, pinnacles are called thilas while channels are called kandus. You'll spot these words in the names of several dive sites.
When planning your scuba diving adventure, you've got 12 months to choose from. The Maldives can be dived year-round, but there are two distinct seasons. From December to April, seas are calm and visibility is good. But, from May to November, sightings of manta rays and whale sharks are more common. This can change from atoll to atoll depending on geographical location, so be sure to check your specific destination in the planning stage.
Below you'll find descriptions of the central Maldivian atolls. This is the most commonly visited area of the country, and where you'll find most of the scuba diving operations.
North Male Atoll – Because of its proximity to the country's main airport, the North Male Atoll is the most visited area in the region. You'll find the healthiest coral reefs in the central Maldivian atolls here. For gorgeous corals, head to the dive sites called Girifushi Thila and Banana Reef. Victory Wreck, too, has healthy soft corals which now cover the sunken ship. For pelagic lovers, Manta Point is the best site. It's a cleaning station for reef mantas.
South Male Atoll – Dotted with pinnacles and channels, the South Male Atoll is known for its big fish.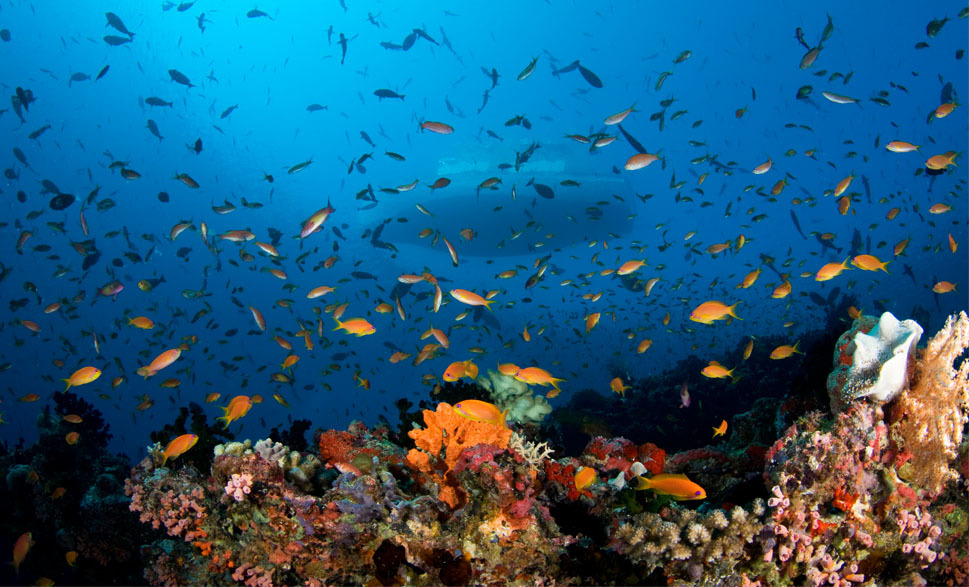 Strong currents rush through the channels between islands and pinnacles, bringing in large schools of jacks, grouper and Napoleon Wrasse. Get ready for some high-speed drift dives! Check out Cocoa Thila and Kandooma Thila for huge schools of fish. Or head for Embudhoo Kandu to see whitetip and grey reef sharks.
Vaavu Atoll – Boasting a 31-mile barrier reef bordering the open ocean, Vaavu Atoll has plenty of heavy currents ripping through narrow channels. While this can create challenging dive environments, it attracts plenty of sharks and rays at sites like Fotteyo Kandu and Miyaru Kandu. Luckily, there are caves and overhangs for shelter on most dives. Be sure to pack a camera. The underwater topography combined with large marine life makes for stunning images. For a change of pace, Alimatha Jetty is famous for its night dives. Under this resort structure, you can see nurse sharks and stingrays strike up a feeding frenzy.
Ari Atoll – A popular liveaboard stop, Ari Atoll is a magnet for pelagic species. Ukulhas Thila features dozens of manta rays, while Maamigili is the perfect destination for whale shark lovers. Both sites have the most pelagic action from August to November. And Maaya Thila is perhaps the most famous dive site in all the Maldives with its abundance of reef life. Bored of big fish? Explore Ari's wrecks with its huge fantail stingrays and the Fish Head Marine Sanctuary to dive with dozens of reef sharks.
Rasdhoo Atoll – A small atoll to the north of Ari, Rasdhoo Atoll is most famous for Hammerhead Point, a dive site where hammerheads are seen each and every morning at 6 o'clock. This site is located on the ocean side of Madivaru Atoll. There's also a plethora of pinnacles and channels where you might see eagle rays, mantas, tuna and reef sharks. A few favorites include North Channel and Rasdhoo Channel. Keep in mind, manta season in Rasdhoo Atoll is from November to April due to its proximity to the open ocean.
Baa Atoll – Featuring an abundance of fish at Dhonfanu Thila and brilliant soft corals at Maavaru Kandu, Baa Atoll is most known for its manta ray aggregation at Hanifaru Bay. From May to December each year, dozens of the graceful animals summersault and circle around the bay, feeding on the large concentration of plankton. If you're lucky, you'll see whale sharks enjoying the buffet interspersed with these manta rays. Only snorkeling is allowed in Hanifaru Bay, but the shallow depths suit the situation much better than scuba diving.
Ready to dive into the Maldives? Be sure to check out our full guide to scuba diving in this island country.