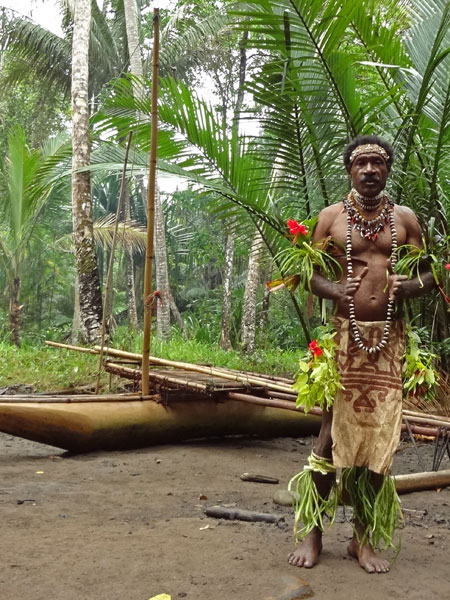 From your very first step into the uncontrived world of Papua New Guinea, you'll feel the cares of the modern world begin to slip away. As a snorkeler or scuba diver, you may already be familiar with this ancestral country's underwater riches and phenomenal coral reefs and atolls, but Papua New Guinea has so much more to offer.
With more than 800 indigenous languages spread over 22 provinces, each with its own distinct character and culture, the fascinating tribal traditions of the close to 7 million Melanesian inhabitants will make your visit to Papua New Guinea a compelling, authentic experience unlike any other. Many of the plants and animals that make this mysterious tropical country their home are found nowhere else in the world, and the lush, undeveloped jungle that covers much of the land is the largest intact tract of rainforest outside of the Amazon. With a ruggedly beautiful landscape framed by cascading waterfalls, pristine beaches, volcanic mountain ranges, and ancient mangrove swamps, Papua New Guinea offers endless opportunity for adventure, and whether you canoe, kayak and fish, or hike, climb and cave, you can enjoy it all while experiencing the unique cultural diversity that is Papua New Guinea.
Explore the Sepik River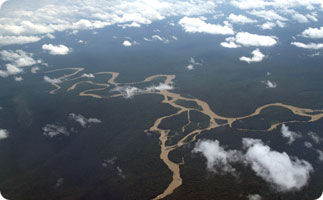 The Sepik River follows an 1100 km (680 mile) trail through mountains, undisturbed rainforests and swamplands before emptying into the Bismarck Sea on the northern side of Papua New Guinea. As you motor your way past the river's collection of eerie lagoons, stilt villages and towering spirit houses, you'll be introduced to the region's densely complex cultures and tribal art forms. With no roads or telephones, the Sepik's indigenous people live completely off the land, while using dug-out canoes as their primary mode of transportation. When you're not witnessing ceremonial dances or watching local artisans carve their inspired collections of masks, sculptures and drums, you're sure to be captivated by the more than 200 species of local birds, including cockatoos, hornbills, and the striking bird of paradise.
Meet the Huli Men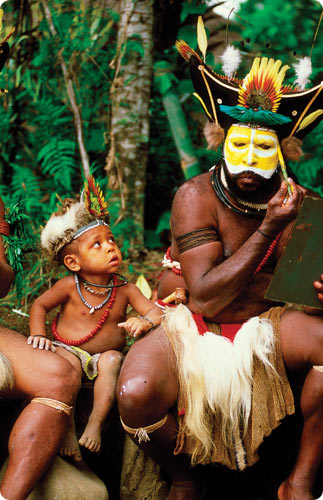 The Hela province in the Southern Highlands region of Papua New Guinea is home to the Huli Clan. This ancient, battle-driven race still uses pigs as their main trade commodity, and maintains a strict and sacred culture surrounding its rites of adulthood, and the training and decoration of its warriors. Separated from their mothers and all other females at a young age, Huli males are segregated for a period of up to three years while they learn the process of masculinization. A special group known as the Huli Wigmen use "magic" and a restricted diet to grow and shape their hair over a period of almost 18 months before it's clipped off, adorned with clay, bones, and feathers, and used as ceremonial wigs.
Attend a Local Festival
The wealth and complexity of tribal culture found in Papua New Guinea means there's no shortage of local ceremonial festivals to attend. From the small and intimate to the large and dazzling, these annual shows celebrate the ancient ways of the indigenous people. The Tumbuna Festival, held every May in the Paiyagona Valley, is a private sing-sing event shared exclusively with guests of Trans Niugini Tours. It features more than 150 tribesmen and women from over a dozen different clans throughout mainland PNG, and the intimate ceremonial dance setting provided by its stunning village backdrop is sure to make it one of the most memorable moments of your travel itinerary. For those visitors wishing to experience something at the other end of the spectrum, the Goroka Festival in September is one of the most famous and electric of the local performance events. This two-day sing-sing involves more than 1000 tribesmen and women, representing close to 70 different groups from around the country. The resulting flamboyance and energy provide the perfect showcase for the diversity of culture that embodies Papua New Guinea.
Trek the Kokoda Trail
The 96 km (60 mile) Kokoda Trail, populated by the welcoming Koiari and Orokaiva clans, winds its way past streams tumbling into steep mountain valleys, and through jungles of fern and orchids on its way to linking the southern and northern coasts of Papua New Guinea. This beautiful but challenging trek provides an inspiring journey through an area that was once the scene of bitter warfare between Australian and Japanese forces during World War II. Now as they ramble across the trail's rugged mountainous backdrop, hikers encounter peaceful, unspoiled villages, and incredible swathes of rainforest that are home to a variety of rare birds, orchids, and other indigenous plant life.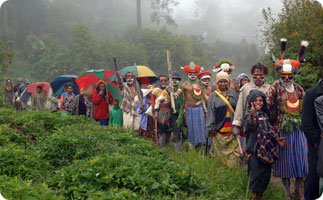 Be At One with Nature
With an incomparable natural diversity, Papua New Guinea offers a rare opportunity to encounter wildlife species so numerous that many have yet to be discovered, let alone named. In addition to the tens of thousands of varieties of insects and invertebrates, visitors can discover hundreds of types of frogs, lizards, skinks and snakes, and close to 190 species of mammals dominated by indigenous rodents and marsupials. A nature walk or boat tour provides the perfect chance to experience PNG's rich ecology, whether it's the 13 varieties of bird of paradise found in the rainforests of Ambua, or the teeming herds of deer and wallabies wandering the floodplains of Bensbach. Touring this wildly thriving region with local experts will help you gain a deeper appreciation and insight into how PNG's tribal people both revere and live in harmony with their local wildlife.
PNG offers so much to a traveller. Consider PNG for your next dive vacation. You'll be gift with a culturally rich experience, visually stunning landscapes and absolutely supreme diving.