Located some six hundred kilometers off the western shores of mainland Mexico, Socorro Island forms part of a remote archipelago that's tiny in stature, but big on pelagics. With the local liveaboard season running from November through July, there's always something magical on offer here – and no dive in Socorro's enchanted pelagic waters ever goes unrewarded.
Giant Pacific Manta Rays
Mantas are a perpetually popular pelagic species, and Socorro Island is well-known for the amazing opportunity it provides to mingle with some of the friendliest rays around. Despite their intimidating 12 to 16-foot wingspan, these graceful oceanic acrobats seem determined to introduce themselves to every diver that enters their domain.
It's been suggested that the mantas here particularly delight in swimming overhead – all the better to enjoy the tickling sensation provoked by divers' bubbles. Giant oceanic manta sightings are common throughout the dive season, and the very best sites – like The Boiler off San Benedicto Island – also double as manta cleaning stations.
Bottlenose Dolphins
Dolphin pods are so active in the Socorro region that they're often ready and waiting to greet liveaboards as soon as these vessels enter the region's rich pelagic waters. Endlessly entertaining, many divers find they're accompanied by the friendly squeaks and clicks of these playful mammals, even when they're not directly in view. At Punta Tosca, off Socorro Island's western coast, bottlenose dolphin interactions are particularly abundant, making for some poignant and personalized aquatic experiences.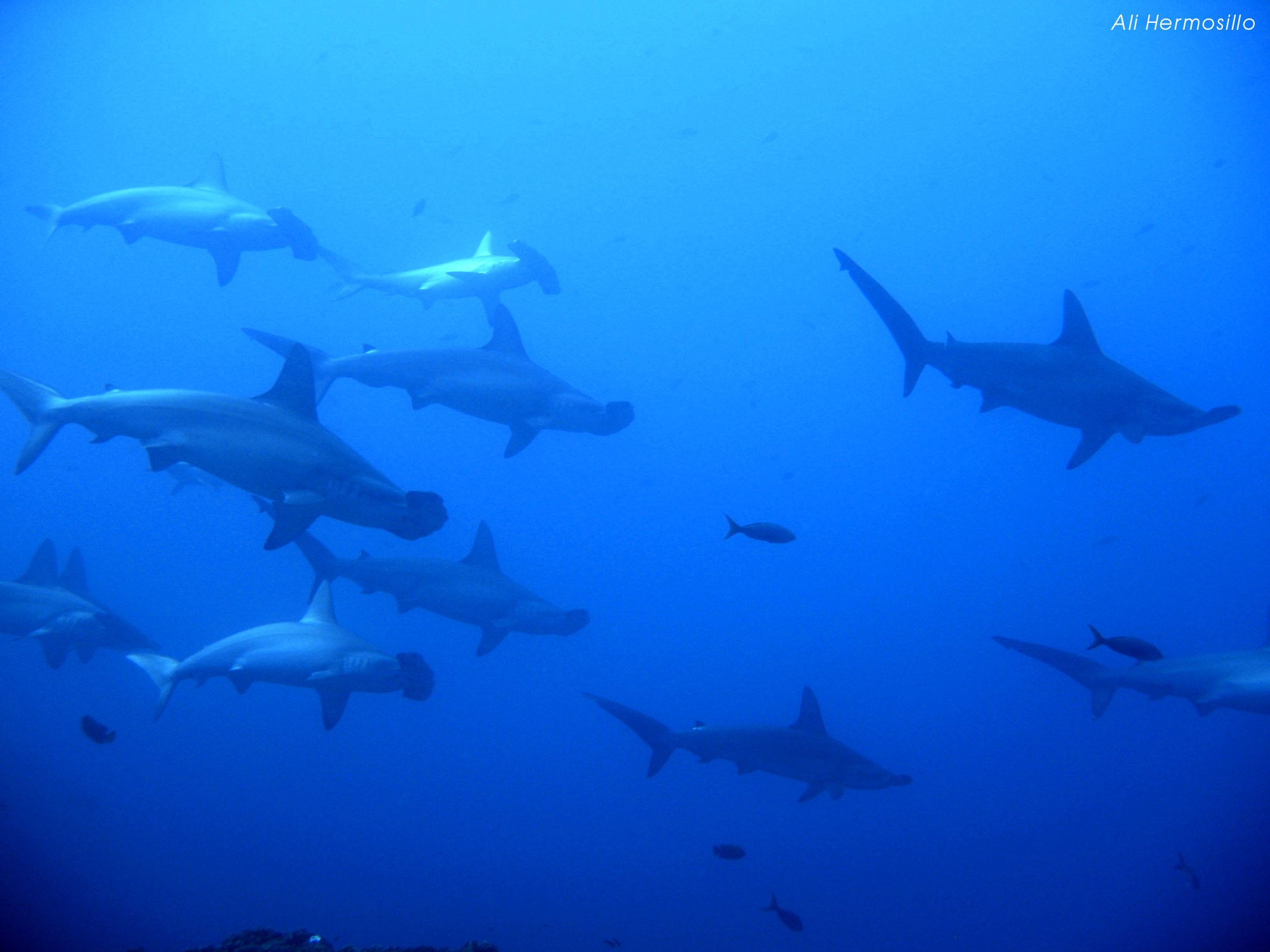 Humpback Whales
The period of January through April brings more pelagic magic to Socorro Island, as humpback whale season rolls into action. Following the call of their traditional breeding grounds, more than 1000 of these massive beauties migrate down to Socorro from Alaska each year.
Watching a humpback breach is amazing, hearing them sing beneath the waves is incredible – but coming face-to-face with a humpback and its calf, as they glide effortlessly through the deep, is an experience no diver is likely to forget. Encounters are increasing dramatically around Socorro each year, as the local humpback population grows used to its liveaboard neighbors.
Sharks, Sharks, and More Sharks
When it comes to magical pelagic species, few tend to make a bigger impact than the magnificent whale shark. Comparable in size to the humpback, these ocean grazers are most frequently spotted around Socorro in November and December, and again in April through July when bait ball season arrives.
If it's the toothier shark species you've come to see, you'll need both hands to keep track of them at sites like the Roca Partida lava plug. In addition to the whale shark, as many as nine shark varieties have been identified in the Socorro region (including gray reefs, silvertips, whitetips, tigers, silkies, duskies, and scalloped hammerheads) – a fascinating circumstance that lends a somewhat eerie and prehistoric element to Socorro's volcanic domain.