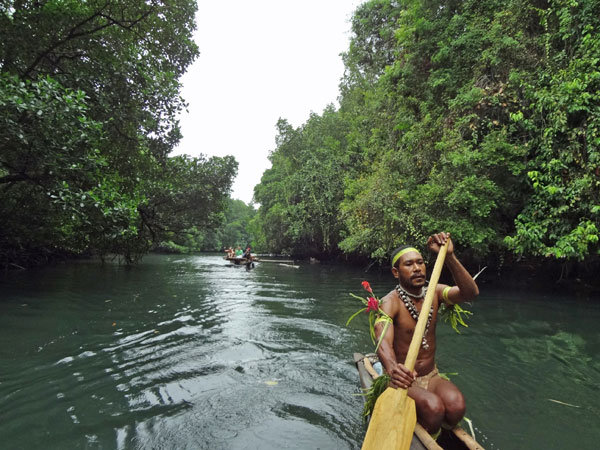 Exotic birds are singing somewhere in the tree canopy as we quietly glide along on our outrigger canoe. The scene is very peaceful and reminds me of the Amazon – except that we are in Papua New Guinea.
The Oro Province, where the village of Tufi is located, boasts many beautiful fjords. Our destination is a small local village where the McLaren Fjord meets a river. The clouds are hanging low today, which just adds to the almost mystical scene.
We are being introduced to the local culture and our guide, William, meets us where the canoes can't go any further. The tribe has been in this area for centuries, gardening and fishing in the valley, while they live further up in the cliffs. All of a sudden, 3 fierce looking, mud covered men come charging at us – asking if we are friend or foe. Once that is cleared up, we are invited to go further. Up until the early 20th century, tribal warfare was very common. William quietly acknowledges that the presence of Anglican missionaries contributed to peace.  It is fascinating to listen to the local customs and culture: from cough medicine in the banana tree roots, to sago making (a starchy breadlike substance), lighting a fire and the intriguing procedure of tattooing a girl's face. Apparently today, not every girl gets her face tattooed, which is quite a lengthy process and ritual.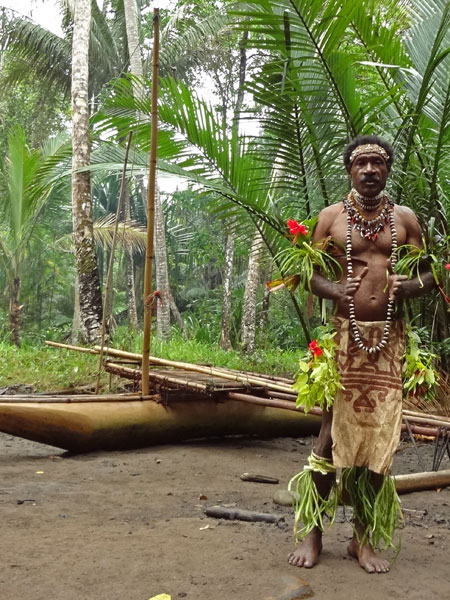 Then the clouds can't hold the rain any longer and we are waiting out the downpour in the village's large shelter, along with kids, a nursing mother, an elderly woman making carry bags and a low smoldering fire where clams are being cooked. As the rain stops, we are being treated to a "Sing-Sing" – a dance and singing ceremony that PNG is famous for. Elaborate head dresses are being sported by the men, with feathers of the most exotic and colorful birds imaginable. On our way back the local women show us their wares, from bags to necklaces to Tapa cloth. Somewhat shy, this is a far cry from aggressive vendors in other parts of the world. And the kids love having their picture taken, always wanting to see how it turned out.
This is one reason why Papua New Guinea is so fascinating. While this was an organized tour, the culture is authentic and people genuinely share how they live, graciously answering all our questions.
It is also fascinating that everyone speaks English – with few exceptions like the elderly, in addition to their local language (there are 800 local languages in PNG) and the widely spoken Pidgin. On our way back, our guide William joins us – he quickly changed from his traditional loin cloth into work clothes, as he is helping with the current construction project at Tufi Resort. A gentle man who is very proud of his heritage and local culture, wanting to preserve it as much as possible, while at the same time introducing it to foreign visitors.