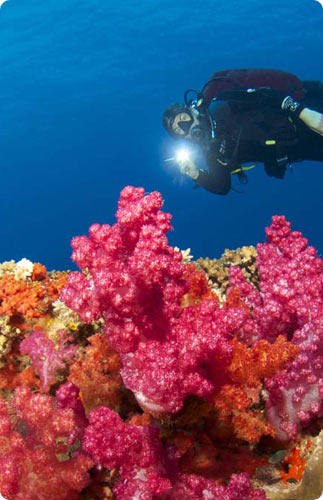 More than 300 islands scattered across the South Pacific Ocean create the beautiful island nation of Fiji; an area with an incredibly rich cultural heritage. Fiji's tropical paradise excites all your senses and needs to be experienced to be believed. Coupled with some of the world's most outstanding soft corals and big marine life encounters, it also makes for a dream scuba diving vacation. Fiji diving offers an incredible experience for Open Water divers, professionals, snorkelers and makes a great destination to bring a non-diving partner.
From diving along vibrant, rainbow-colored coral gardens, to exploring challenging swim-throughs and caverns, Fiji scuba diving offers the best of a variety of diving worlds. But if you're still not convinced, then here are the top 5 reasons why you need to make Fiji and its spectacular dive resorts your next scuba diving destination.
Explosions of Soft Corals
It was Jean-Michel Cousteau who initially dubbed Fiji the "soft coral capital of the world" and with hundreds of different species found in its magnificent colorful reef systems, it's easy to see why.
Where to stay:
The Vatu-I-Ra passage of the Bligh Waters of are known to be a fantastic area to see soft corals resembling fireworks of color underwater. The channel separates the two biggest islands in Fiji – Viti Levu and Vanua Levu. Swift currents feed through these islands, which provides food for all the corals and other organisms. Consider a stay at Volivoli Beach Resort.
Or head to the Fiji dive resorts on Taveuni Island in the northeast, which is renowned for its pristine Rainbow Reef and soft coral diversity, resulting from the strong currents and nutrient rich waters of Somosomo Strait. Paradise Taveuni and Garden Island Resort are fantastic options for divers.
Pelagic Encounters
Although Fiji's rich waters are home to around 1200 fish species, it is "the big stuff" sightings that make it a truly exhilarating place for a scuba diving trip. Silvertip, leopard, bull and tiger sharks can all be found, together with tawny nurse, grey reef, and both white and black-tip reef sharks. Between May and October, manta rays can also be spotted, with incredible up-close encounters possible at their feeding grounds.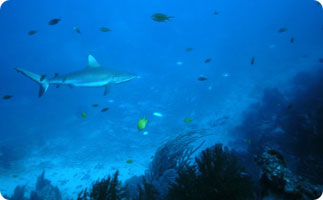 If that's not enough, the warm Fijian waters are also home to five of the world's seven marine turtle species, as well as big bumphead parrotfish and Pacific Sailfish, making it an outstanding location for scuba divers.
Where to stay:
Shark Reef Marine Reserve just off Viti Levu's southern coast is the prime spot for guided shark dives, with more than eight different shark species known to frequent the area. Head to Beqa Island Resort just to the south of Viti Levu. Not only is it surrounded by around 100 different dive sites, it is also home to the famed Beqa Island Firewalkers whose spirit god has blessed them with the ability to walk over white-hot stones.
For a good chance of sighting manta rays, consider a stay at Matava Eco Resort, on Kadavu Island. Their Manta Reef dive site is a submerged reef outside of the Great Astrolabe Barrier Reef and is about a 40 minute boat ride from the Resort. 
Varied Underwater Landscapes
While Fiji's lush soft coral gardens are renowned, the archipelago also has plenty of challenging caverns and swim-throughs, as well as fascinating rock formations to explore. From the Black Rock Caverns of Koro Island to the tunnels of Beqa Lagoon, there is no shortage of unique underwater landscapes to challenge even the most experienced divers.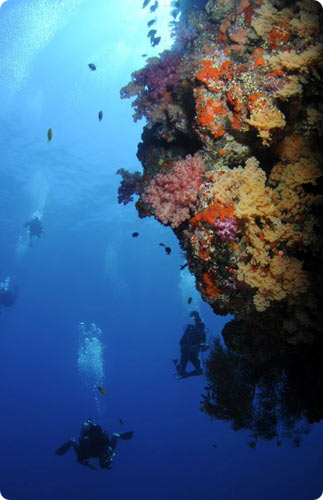 Go scuba diving along the walls of the Somosomo Strait, with its immense Gorgonian sea fans, and swim through its tunnels adorned in soft corals. Or head to the Namena Marine Protected Reserve in nearby Savusavu, with its impressive pinnacles and coral-adorned bommies.
Where to stay:
Koro Sun Resort offers dive trips to Somosomo Strait and offers a wide range of accommodation choices. It's worth it to indulge in their Overwater Bungalows or Edgewater Bures. For Namena Marine Reserve, we recommend looking at the liveaboard Nai'a, which services the area for the most exposure to this incredible reserve. There are land based options as well such as Cousteau Resort, and Namale Resort.
Incomparable Fijian Hospitality, Charm and Culture
For many scuba divers who visit Fiji, the warm welcome and hospitality of the Fijian people stands just as firmly in their memories as their underwater experiences. There's nothing quite like arriving to the resort and being greeted with guitars and singing and being referred to by name by all staff within a few hours. The Fijian people love to share their rich culture and no visit is complete without participating in a kava ceremony, or experiencing live storytelling and historical dance performances.
Where to stay:
Qamea Resort and Spa is perfect for those looking to indulge in a 5 star experience. Between the luxurious Bures, the amazing staff and the diving opportunities right at their doorstep, you are guaranteed a flawless vacation. Take advantage of the weekly village and church visits, as well as the Meke Feast and cultural night.
Endless Topside Activities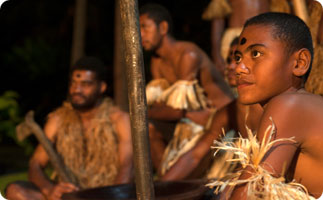 Whether you're wanting a remote sandy island to relax on between dives, or a densely forested, mountainous interior to explore, Fiji's islands offer adventures of all types when you are looking for some down time from the ocean. You can partake in white water rafting, kayaking, jungle trekking and zip-lining, or just relax away the hours in a hammock on a quintessential slice of paradise.
The sublime underwater conditions, idyllic above water environments, rich cultural heritage and warm Fijian hospitality combine to make a scuba diving vacation at one of Fiji's dive resorts a truly unforgettable and satisfying experience. Fiji diving, and the experience as a whole, stays with you for the rest of your life, we promise.