With a natural diversity that transcends the imagination, diving PNG is special in every sense of the word. In fact, the question isn't so much whether you should visit Papua New Guinea, but what wonders you should expect when you get there …
A stunningly exotic tropical setting, with waters that average a balmy 25oC? Check.
Relatively unexplored seas offering incredible visibility of 15-50 meters?
Some of the most unusual, abundant, and exciting marine life found anywhere? Check, check, check.
No matter what's on your scuba diving wish list, chances are good that you'll find it amongst the reefs and wrecks of PNG's Milne and Kimbe Bays.
Milne Bay
Nestled at the southeastern tip of PNG, Milne Bay is riddled with deep channel fjords. The muck diving is superb, busy manta cleaning stations are readily accessible, and the bay overflows with swimthroughs, drop-offs, and pinnacles.
Many divers come to Milne Bay to explore its biologically vibrant reefs, but the spectacular displays of soft corals, colossal fans, and masses of shimmering fish aren't the only aquatic treasures to be found here.
The Battle of Milne Bay, marking its 75th anniversary in 2017, played a significant role in World War II events. Since that time, the bay's depths have revealed everything from sunken merchant vessels, to patrol torpedo boats.
At a depth of 50 meters, Black Jack is a B17 bomber – complete with machine guns and mounting turrets – and one of PNG's best-preserved wrecks. At 30 meters, you'll find the P38 Lightning – an almost fully intact fighter plane that lay undiscovered for more than five decades.
The artifacts left behind by this historic conflict are more than just fascinating, they're the source of one of the most widely acknowledged Papua New Guinea facts: Milne Bay is the place to be for outstanding wreck dive adventures.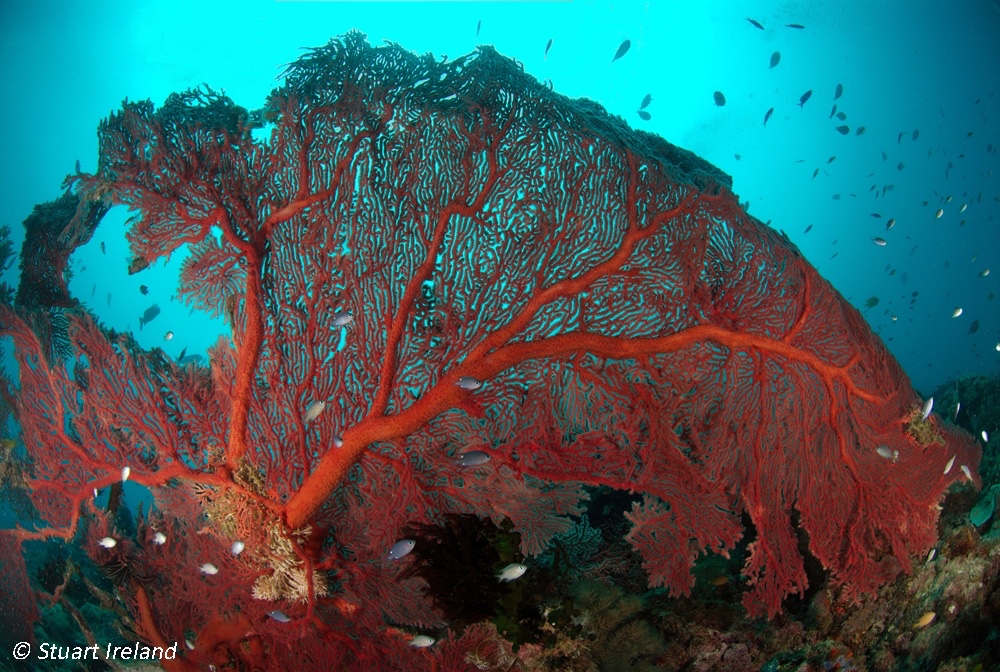 Kimbe Bay
Kimbe Bay lies off the northern coast of PNG's New Britain island. While you may spy the occasional remains of a WW2 Zero fighter here, the region's main draw is its status as a biodiversity hotspot.
With wish lists firmly in hand, divers can expect to encounter more than 900 fish species and 400 types of coral among the bay's complex reef systems. In fact, well over half the world's coral species live here, alongside breeding and feeding dolphins, barracuda, hammerheads, and whales.
Minimal tides and currents, and sites that stretch across isolated outcrops, magnificent seamounts, deep waters, mangroves, and seagrass, mean divers are free to explore the bay's captivating – and largely undamaged – reefs and ecosystems, at their leisure.
You really can't go wrong no matter where you dive in Kimbe Bay, but some of the area's more popular sites include the brilliantly colored gardens, sponges, and sea whips of Vanessa's Reef, and the impressive pinnacle that dominates Bradford Shoals.
As one of the globe's most remote and unspoiled travel destinations, the truly adventurous understand exactly why they should dive PNG, and where. Is New Guinea at the top of your must-dive list? If not, it probably should be.
Ready to dive into Papua New Guinea? Be sure to check out our full guide to scuba diving in this island country.