As an additional benefit, there are several diving areas spread around the country. The Great Barrier Reef and the Coral Sea are the most famous areas, but you'll also find great dives in Western Australia, South Australia and even around Melbourne and Sydney. Further afield, Christmas Island offers remote adventure. Whether you spend a week underwater or mix your dive holiday with land excursions, you'll have the adventure of a lifetime in sunny Australia. But there's a lot you may not know about Australia and the Great Barrier Reef.
Long famous for scuba diving, Australia is a must-visit destination for all water lovers. In the Land Down Under, you'll find an astonishing array of marine life, the world's largest barrier reef and a wide variety of dive sites from sinkholes to jetties and hundred-year-old shipwrecks. The well-developed and innovative diving industry in Australia hosts hundreds of thousands of divers annually. The liveaboards in the region are particularly popular and offer routes for all levels from beginners to expert divers.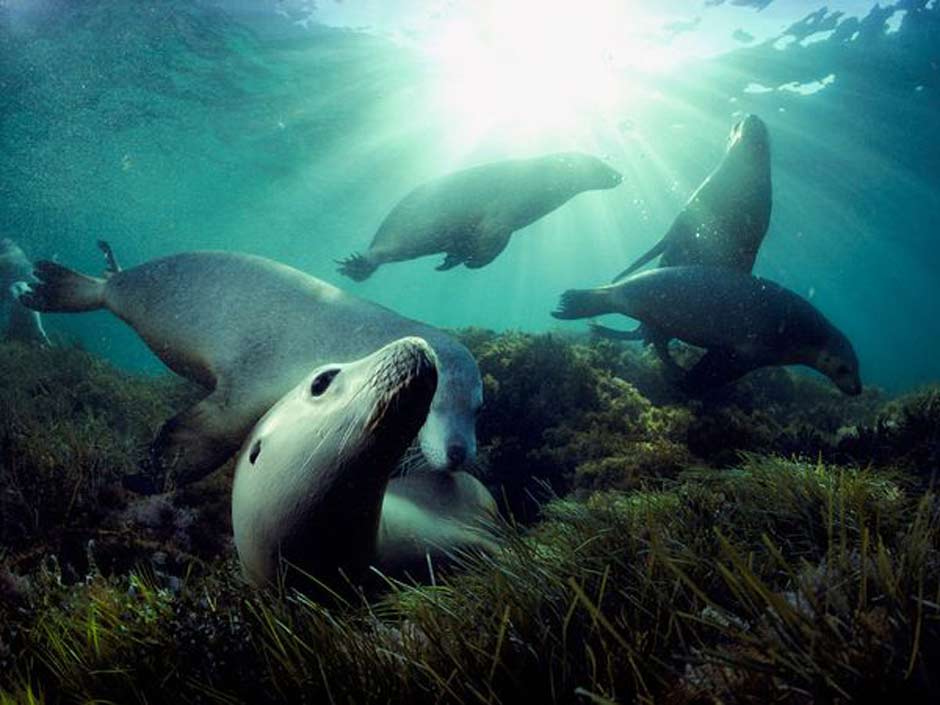 Interesting Facts
Australia's waters are amazingly diverse. In fact, 4,000 different species of fish reside in the Land Down Under. There's also 1,700 types of coral found here. Do you know what's even more impressive? About 80% of Australia's mammals, reptiles, frogs and plants are endemic, meaning they are unique to Australia and exist nowhere else in the world.
Australia's most famous marine area, the Great Barrier Reef is home to a large percentage of the aforementioned marine life. The UNESCO World Heritage site hosts 1,500 types of fish, including 9 species of anemone fish, 43 species of butterflyfish, 1001 species of nudibranch, 6 of the world's 7 species of sea turtle, 30 species of cetaceans (whales, dolphins and porpoises), 17 species of sea snake and 330 species of ascidians. Because of this biodiversity, the Great Barrier Reef is considered one of the Seven Natural Wonders of the World.
Australia happens to be one of the best spots in the world for spotting and swimming with Minke Whales. In the section of the Great Barrier Reef known as Ribbon Reefs, which is frequented on liveaboard routes, Dwarf Minke Whales can be found from late June through July. Most operators will allow you to snorkel with the whales. Even if the cetaceans aren't present, you'll love this section of the reef. Cod Hole, Pixie Pinnacle and Challenger Bay are all world-class dive sites.
Lady Elliot Island in Queensland is nicknamed the "Home of the Manta Ray." While you're likely to see manta rays on many of your dives around the island, Lighthouse Bommie is the place to go for nearly guaranteed encounters. You could spend hours watching these graceful creatures swim around the cleaning station. Both snorkeling and diving are possible, but to get the closest encounter, you'll want a tank on your back.
The SS Yongala is the Great Barrier Reef's premier wreck site and is ranked as one of the best dive sites in the world. The boat used to be a 110m passenger and freight steamer. It sank during a cyclone in 1911 with 124 passengers on board. Today, the Yongala is home to a huge variety of marine life from robust sea snakes to supersized turtles. While the ship lies between 45 and 100 feet (15 and 30 meters), this site is reserved for experienced divers due to heavy currents and reduced visibility.
The Neptune Islands in South Australia are one of the four best places to dive with great white sharks. Cage diving was actually invented here by Rodney Fox, and today, you have the option of viewing the sharks from a cage on the surface or from a cage at 50 feet while on scuba. But if cage diving with great whites sounds a bit too high voltage for you, consider a trip to North Horn on Osprey Reef where a shark feed attracts white tips, grey reef sharks and silkies or to Dynamite Pass, a high-speed, shark-filled drift dive.
A UNESCO World Heritage Site, Ningaloo Reef in Western Australia is one of the best places in the world for swimming with whale sharks. Many of the local operators have a whale shark guarantee. That's how easy it is to spot these huge sharks! Most of the whale shark tours are accompanied by a spotter plane to make it easier for the boat captain. The majority of tours in the area are snorkel-only, but you might be lucky enough to have a whale shark swim past any of the dive sites at Ningaloo.
Although the Coral Sea may be Australia's most famous diving area, there are plenty of other sites to explore, including those in Western Australia, Sydney, Melbourne and South Australia. Did you know that the marine symbol of South Australia is the leafy sea dragon? These unusual creatures are commonly found under the region's jetties!
Ready to dive into Australia? Click here to read more about scuba diving in Australia.
If the Land Down Under sounds like your paradise, be sure to book a liveaboard in order to experience the best diving in the Great Barrier Reef and beyond. Check out these great options for the "eat, sleep, dive" vacation you've been dreaming of.