Imagine your liveaboard anchored on the edge of a protected bay. Turquoise blue water laps against a white sand shore in the distance. As you edge the dive deck, gear donned and ready to go, you can already see colorful shapes moving below the surface. Taking your first breaths underwater, you look down and nearly lose your regulator out of awe. A rainbow of soft corals awaits you 30 feet below. Sea fans wave gently in the current and sponges tower over the tallest of your dive buddies while hundreds of tropical fish flit about. Any dive in Fiji is going to be amazing from start to finish, but here, we detail the highlights of Fiji soft coral dives in a few distinct dive areas in this amazing destination.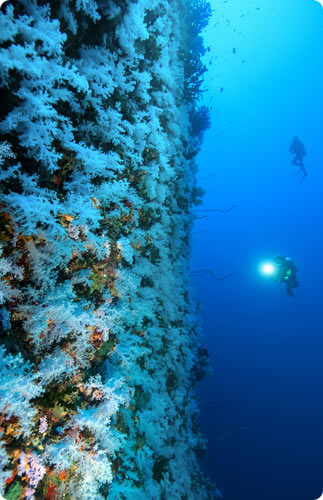 Great White Wall, Somosomo Strait, Taveuni
Perennially ranked as one of the world's best dive sites, the Great White Wall lies between Fiji's Taveuni Island and Vanua Island.
This site begins with a swim-through cave. The hard and soft corals within the cave are as healthy as they come, but these aren't what makes the Great White Wall so great. Upon exiting the swim-through, you'll be confronted with a vertical wall covered in brilliant white corals. Square-spot anthias swarm in the foreground and green, red and orange corals punctuate the expanse, but this white blanket is jaw-dropping in its completeness. It's enough to make even the most experienced diver wide-eyed in wonder.
The Zoo, Somosomo Strait, Taveuni
As you may guess by the name of this site, the Zoo is an ideal spot to witness many different forms of marine life in action. Its home within the Rainbow Reef system, also features every color of soft coral imaginable.
Current is key to this site. When the water is flowing at a light to moderate rate, the soft corals in Somosomo Strait come to life, stretching out in order to catch their daily meal. If no current is present, the corals retreat into a protective ball.
Certainly the soft coral at this relatively shallow site is enough to keep you occupied, but don't forget to search for the reef's outstanding biodiversity. Nudibranchs and clown triggerfish live amongst the coral while barracuda and white-tip reef sharks swim in the blue. There's never a dull moment at Rainbow Reef.
E-6, Lomaiviti, Bligh Water
Tucked away in the Bligh Waters between Viti Levu and Vanua Levu lies the Vatu-I-Ra Passage, home to amazing soft corals and a few of the most famous dive sites in Fiji. Of these sites, E-6 is most often a favorite among soft coral-lovers.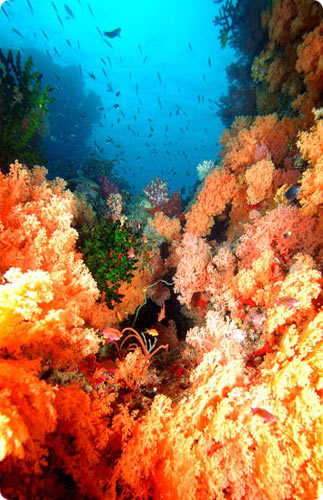 Located near Lomaiviti, the E-6 seamount is ripe with nutrients, creating a vibrant underwater ecosystem. The leeside of the mount is positively covered in sea fans, and the swim-through deemed "Cathedral" can produce some of the most photogenic moments in the Bligh Waters. The light that filters through the rocks and onto massive gorgonians and corals of every color translates beautifully on film.
While it might be tempting to think of E-6 as a daytime dive due to its vibrancy, most local dive masters will also recommend a night dive in the area. Huge crustaceans come out to play, giving this gorgeous area a new and equally magnificent dimension. Nearby Mellow Yellow also deserves a special mention for its incredible soft corals, and don't let the name fool you. There's more colors than you can imagine.
Frigate Passage, Beqa Lagoon
As a relatively remote section of Beqa Lagoon, Frigate Passage is only accessible by liveaboard or a 45-minute boat ride. Luckily, Frigate Passage offers underwater landscapes ripe for exploration and worthy of the trip.
As you descend, take a glance at your fellow divers. You'll see the astonishment in their eyes as they gaze at this soft coral-covered wall. Huge gorgonian fans breeze past as you ride the moderate currents, and a multitude of reef fish are sheltered by the black corals which stand out against the sandy bottom. Plan at least a two or three tank day at Frigrate Passage.
Dreammaker, Rakiraki, Viti Levu
Rakiraki is no stranger to the brilliant soft corals that make Fiji scuba diving world-renowned. However, its location off the Coral Coast gives Rakiraki an air of seclusion. You'll be grateful for that when you have the area's amazing dive sites all to yourself.
Several Rakiraki sites feature stunning soft corals, including Neptune's Wedding Chapel and Golden Dreams, but the best coral-covered dive site is Dreammaker. Its three gigantic walls are covered in brilliant golden corals with large patches of multi-colored hues making three amazing quilts of soft coral. By some accounts, this is the best display of soft corals you'll see while diving in Fiji. 
North Save a Tack or Kennan's, Namena Marine Protected Reserve, Namena Island
We know it's cheating, but we couldn't pick just one soft coral site in the Namena Marine Protected Reserve. This remote destination, most easily reached by liveaboard, only adds to Fiji's fame as the soft coral capital of the world.
Keenan's features a narrow pinnacle covered from head to toe in healthy soft corals. There's also the lush coral garden at which you'll end the dive. Look out for Durban dancing shrimps and mating grey damselfish.
On the other hand, North Save a Tack is a wild ride of adventure. This dive begins with pelagic encounters ranging from huge schools of barracuda to graceful manta rays. It then transitions to a channel which is absolutely covered in the densest soft coral you've ever seen. Pinks, oranges, blues and blacks stretch out before you. At the end of North Save a Tack, you'll find the Û÷Window of Dreams' where some of the most famous underwater photographs have been taken. Many of these appear on promotional images for Bligh Water diving holidays.
Special Mention – The Hard Corals of Great Astrolabe Reef, Kadavu
We can't discuss Fiji diving without talking about Kadavu. In particular, the Great Astrolabe Reef is one of the best coral destinations in the world. Better known for hard corals, this 100-kilometer-long reef boasts pristine corals blending into steep, soft-coral covered walls. Every color is represented in this stunning display of nature making Kadavu is a must-dive site for anyone visiting Fiji.
Are you ready to book your scuba diving adventure to see Fiji soft corals? Give us a call (1-888-995-3483) or send us an email today for more information.
Click here for more information about diving in Fiji.
You may also be interested in Top 5 Reasons to Make Fiji your Next Scuba Diving Vacation Destination.