The island of Guadalupe is a remote scuba diving destination off the Pacific coast of the Baja Peninsula in Mexico. Although its quite a distance from shore, it has become famed for its shark encounters. At around 250 miles (400km) from the coast, getting to the island requires a 20-hour boat journey. In addition, you'll need to stay on the boat (called a liveaboard), as the island has no accommodation for tourists.
If you aren't in Guadalupe to dive, there isn't too much to do on this essentially uninhabited island.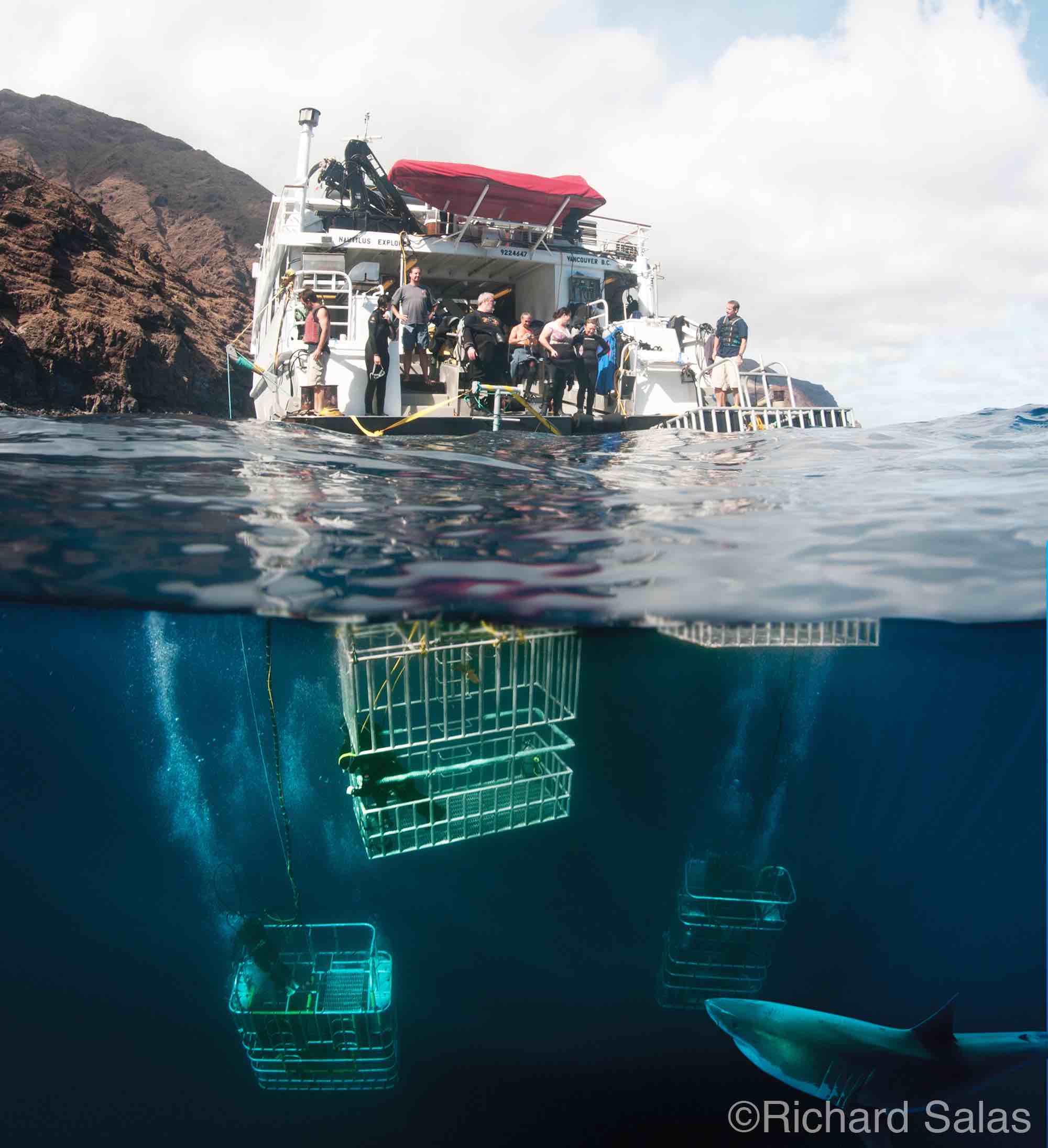 However, under the water is a very different story. Diving in Guadalupe is all about the Great White Sharks that reside there. Sometimes on a single dive, you can see upwards of 6 or 7 Great Whites. Guadalupe is truly one of the world's top shark diving destinations.
Obviously, with such high numbers of sharks present, diving in Guadalupe is always within a cage. Its against Mexican law to dive outside the cage. It's not just the high numbers of the sharks that makes Guadalupe such a popular destination, but also the conditions. During shark season, which runs July to November, water temperatures remain between 67 ¡ – 72 ¡ F (20 ¡ – 22 ¡ C). That combined with the usually fantastic visibility of near 140 feet (40 meters) in beautiful, indigo-blue water, provide the best conditions for Great White shark diving in the world.
8 Fun Facts About Traveling in Guadalupe
Cage diving in Guadalupe is not solely reserved for certified scuba divers. Anyone can also partake in diving with Great White sharks through the use of a hookah and cages that stay on the surface. If you do have your certification, you can make use of one of the submersible cages that descend down into the blue where sharks congregate.
Scientists have identified over 245 individual sharks who regularly visit Guadalupe Island. Each individual has its own name, and liveaboard crews can usually tell guests which sharks they are seeing in the water. If you take a photo of a shark that is not yet identified, the naming rights are all yours.
During the Guadalupe season, there are two important periods. From July to August, very active juvenile males frequent the island. Huge females arrive around at the end of summer and stay until mid November. The island is a mating hotspot for Great White sharks, and there have even been some baby sharks observed in recent years.
Mature females can often be seen around the island sporting gruesome bite marks and other scratches. This can be a result of the violent mating rituals of Great Whites, but unfortunately also from being hit by boats and props. To reproduce, males must hold onto the female by biting the area around the gills and pectoral fins.
One of the major reasons Guadalupe is a beacon to a large number of Great White sharks is the Guadalupe Fur Seal. One of six fur seal species in the world, this shark food source was once pushed close to extinction by commercial sealers in the 19th Century. Luckily, the fur seal population has since recovered to numbers in excess of 10,000.
The island of Guadalupe has an elongated shape and was originally formed by two overlapping shield volcanoes. Today, the island features a rugged landscape and reaches an elevation of 1,298m at Mount Augusta.
There are a number of endemic species that call Guadalupe home. Some birds, including the Guadalupe rock wren, house finch and junco, only live on this small island. The same is true for a number of spider species and a range of plants. Under the water, you can also find the endemic Guadalupe pipefish.
Although extremely remote, Guadalupe does have a human population of just over 200 individuals. These inhabitants are mostly abalone and lobster fishermen who survive thanks to generators and a military vessel, which provides 30,000 liters of fresh water annually. There is also a shark research station on the island that provides invaluable data on the ocean's most fearsome predator.
Ready to dive in? Click here to read more about cage diving at Guadalupe Island.
If coming face to face with a Great White shark sounds like your kind of adventure, book a Guadalupe liveaboard trip to experience the best cage diving around. Check out our great options for the "eat, sleep, cage dive" adventure of your dreams. Do note that liveaboards traveling to Guadalupe are open to both certified divers, and non-divers alike.