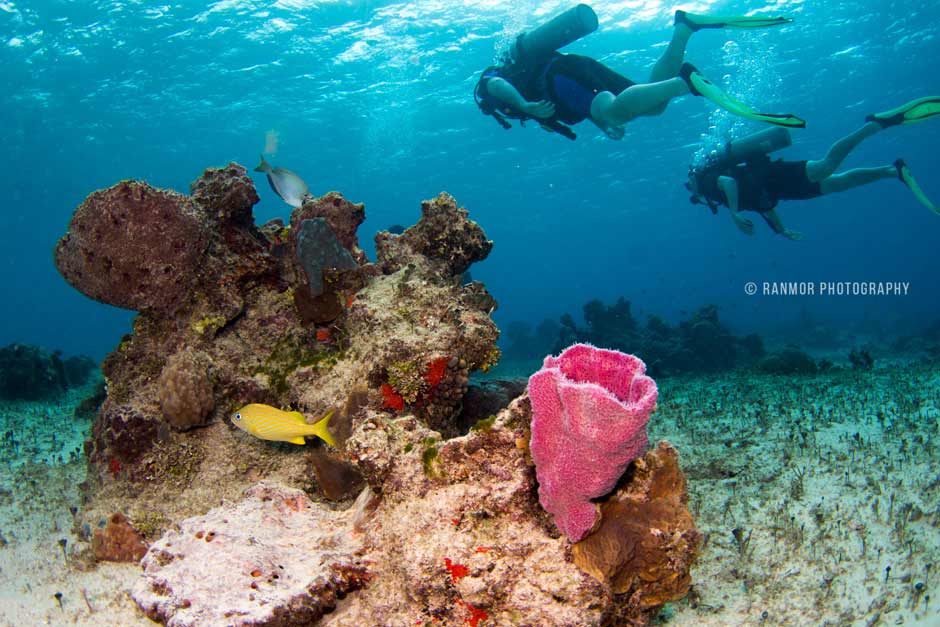 Cozumel, an island in Mexico's Yucatan Peninsula, is one of North America's major scuba diving hotspots. Diving in Cozumel allows for relaxed dives full of interesting critters. Anything from eels to sailfish can pop up. Drift diving is the norm, and you'll find a variety of dive sites to please all levels of divers, from beginners to professional level divers. An interesting destination, there is also plenty of history for those hungry for Cozumel fun facts.
The well-developed Mexican diving industry provides all the necessary amenities to explore this underwater environment at a bargain price. In fact, Cozumel is probably the best value for scuba divers in North America. Charter flights are cheap and plentiful, often with non-stop flights and dive operators are in a competitive business, so dives are well-priced. Plus, there's a variety of hotels (from 2-star to 5-star) to suit all budgets and desires.
As an added benefit, Cozumel is a fantastic choice for scuba divers traveling with non-diving partners. All-inclusive resorts, Mayan ruins, exciting night life, good bargains and pristine white sand beaches provide those who prefer to stay on the surface, with a good deal of entertainment and relaxation opportunities.
Cozumel is located in Mexico off the coast of the Yucatan Peninsula and just south of Cancun. With a total landmass of 184 square miles, Cozumel is home to 100,000 people and is economically dependent on tourism. Because of the tropical climate, this part of Mexico is considered a year-round scuba destination.
Cozumel Fun Facts
The majority of dive sites around Cozumel are within the Cozumel Reefs National Marine Park. Created in 1996, this national park protects part of the Mesoamerican reef system. Today, these waters host more than 26 species of coral and more than 500 species of fish. Because of successful programs to protect the local marine life, hawksbill, green and loggerhead turtles are often spotted in the area.
Cozumel is also home to a small section of the world's second largest barrier reef system, known as the Mesoamerican Reef. Stretching nearly 700 miles, this reef system reaches from Mexico's Yucatan Peninsula to the Honduran Bay Islands. Today, the barrier reef is Cozumel's main scuba diving attraction.
Legend has it that Jacques Cousteau filmed a documentary in Cozumel in the 1950s and 1960s, thus opening the door to scuba tourism. However, there is no evidence that this really happened. True or not, the suggestion that Jacques Cousteau enjoyed diving in Cozumel is enough to put Cozumel on the bucket list of many divers.
The name Cozumel was derived from the Mayan name for the island, "Ah Cuzamil Peten." Translated to English, this means "island of the swallows." Because of this, the swallow is an important symbol to the Cozumel's identity and can be spotted in many motifs, from imprints on sidewalks to artwork originating on the island.
The splendid toadfish, Sanopus splendidus, is entirely endemic to the island of Cozumel. Unlike other toadfish, the splendid toadfish is known for its vibrant colors. Its head is patterned with black and white stripes while its fins are bright yellow. When diving, keep your eyes peeled for coral outcroppings with small sandy patches underneath. This is often an indication of a splendid toadfish den.
Cozumel was first settled by the Maya in the 1st millennium AD. At that time, it was thought that the island was sacred to the Maya Moon Goddess, and many temples dedicated to her were found here. The Spanish arrived to Cozumel in the 16th Century, decimating the local Mayan population by bringing smallpox along with them.
Cozumel is home to some beautiful beaches, including Playa Bonita, Playa El Mirador and Playa de San Martin. One beach that is especially worth visiting is located at Punta Molas on the northeastern tip of the island. This beach can only be reached with the aid of a 4-wheel drive vehicle and is also home to the island's lighthouse.
Ready to dive into this charming Mexican island? Click here to read more about scuba diving in Cozumel.
There are plenty of great resorts including for those traveling with non-diving partners or those who prefer a bit more downtime between dives. Below you'll find our favorite Cozumel resorts with full diving facilities.
Thank you to Ran Mor for the use of his images.