You've tried a discover scuba course with your loved one, but try as you might, your better half just doesn't share your love of diving. This can cause a bit of conflict when it comes to going on vacations together. Besides how much diving will be done, the biggest decision is where to go where you'll both be happy! There are definitely some destinations that are better than others if you are traveling with a non-diving partner.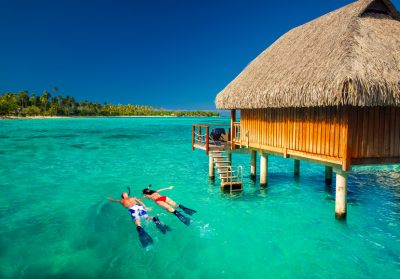 When the love of your life doesn't share your love of the ocean, finding a scuba diving vacation spot to make you both happy can feel a little overwhelming, but it doesn't need to. To ensure you have a happy holiday, you have a few things to consider. As with any dive trip, you do need to think about the type of diving you would like to do. Equally important is the amount of time said diving will take and, therefore, the amount of time you will be apart from your non-diving holiday partner. Finally, consider what your non-diving partner enjoys where holiday activities are concerned. Are these things available? Will you be able to do them together when you are not diving or will this fill their time while you are diving?
Beach and Relaxation
In many locations, diving and beach resorts have grown hand in hand, but not all offer easy access to typical beach holiday pursuits. The smaller and more remote the location is, the more likely that beach sitting is going to be the only activity available. Depending on your partner, this may not be enough to entertain in your absence. Thailand has some great spots for you to combine excellent diving with stunning beaches, sumptuous spas, health and wellness activities and superb dining and nightlife options to suit all tastes. Thailand also has some great conditions should your non-diving partner be interested in trying the underwater world for themselves. Fiji is a veritable island paradise with beaches that are hard to leave. It's hard to overstate its stunning beauty or the welcoming hospitality of the locals. Dive in Fiji and you will be awed; it's called the soft coral capital of the world for a reason. Snorkelling here is wondrous too, and if you can peel yourself away from the beach, the local crafts, temples, fire-walking and kava ceremonies are there for you to discover. Even the word Hawaii evokes a great holiday feeling. It's likely brought to mind fabulous beaches, rugged scenery and a definite sense of fun in the sun. The diving is superb and top side there's is truly is something for everyone. With a number of islands to choose from, Hawaii could keep you entertained for many happy holidays. There are many scuba diving destinations that offer great beach holidays, each with a slightly different feeling. Destinations like Ambergris Caye in Belize, Cozumel in Mexico, Turks and Caicos, the Andaman Islands, the Cayman Islands each offer something different. Coming up with a diving short list and letting your non-diving love choose their perfect destination could be key to holiday bliss.
Culture Vulture
Booking a scuba diving vacation in Egypt is high on most divers bucket list. If your non-diving partner loves history and culture, then you're both in for a treat with what Egypt can offer you. Stunning Egyptian cultural, historic sites are within reach of many of Egypt's scuba diving hot spots. While Bali doesn't have show-stopping sights like Egypt, it's temples, culture, crafts and simple, understated natural beauty are all there to be soaked up. There's superb diving and an island full of top side discovery and adventure.
Wildlife
The Galapagos Islands are a nature lover's paradise whether you are above or below the ocean's waves. Sea lions, penguins, giant tortoise, iguana and many different types of birds will delight you topside with more waiting underwater. If your partner is happy for a bit of beach style relaxing while you dive for a few days, then Mozambique offers the attraction of a dive-safari connection to the Kruger National Park. Apart from the chance to spot the Big 5 topside you'll have some wild, exciting diving too. If your partner snorkels then you can share the pleasure of seeing Mozambique's underwater leviathans, whale sharks, and manta rays, with them. If snorkeling is not for them, boat trips to view Humpback whales are available. These scuba diving vacation spots are just as a taster and far from the only ones suitable for holidaying with non-diving partners. Contact us with your diving wishes and your partners preferred holiday activities and let us come up with a choice of scuba diving destinations to suit you and your non-diving partner.