AquaMarine Diving – Bali
As a PADI 5-star dive center, AquaMarine Diving is the only British-owned dive company in Bali. Owned and operated by Annabel Thomas since 1999, AquaMarine was founded on the simple concept of pairing personalized, quality service with the best diving in Bali.
One of the biggest benefits of diving with AquaMarine is the unique opportunity it provides to dive, explore, and overnight in a variety of regions, while accompanied by the same guides throughout.

From single day adventures, to set and custom dive safari packages lasting weeks, that include a range of accommodation options, AquaMarine's excursions are perfect for experiencing the amazing diversity that diving in Bali offers. Let expert and dedicated guides greet you at the airport – or pick you up from your hotel – and whisk you away to Bali's most memorable dive sites.
ACTIVITIES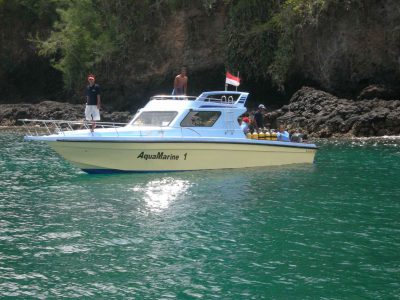 Although they specialize in organizing dive trips, when it comes to putting incredible Bali vacations together, AquaMarine is always delighted to add a land-based component to their guests' itineraries. Bali is a land of colourful Hindu culture set against a scenic backdrop of volcanoes and incredible coastlines, so there's always lots to explore.
As the Spa Capital of South East Asia, Bali is a great place to unwind and shop, but irresistible activities like birdwatching, horseback riding, wind-surfing, and golf can easily keep you hopping! AquaMarine Diving arranges airport transfers, accommodations to suit every budget, and topside activities that range from white water rafting to Balinese cooking.
They're also experts in customizing holiday packages that combine the best of both diving and land-based adventures. Whether you're looking for a family holiday, a romantic get-away, or the ultimate Bali adventure, think of AquaMarine as your one-stop shopping dive operator.
CUSTOM COMFORT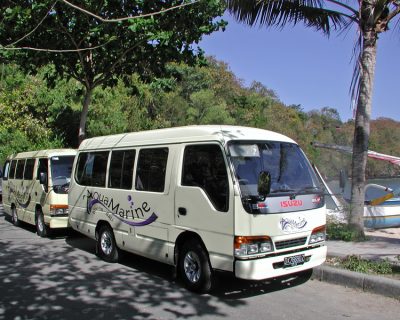 AquaMarine guests travel in one of seven comfortable, air-conditioned minibuses – but these are no ordinary vehicles. Each has been custom-designed with the aim of providing passengers with maximum leg room. Where other companies' minibuses carry as many as twelve passengers, AquaMarine's carry only six in the same space.
AquaMarine takes your comfort and safety seriously, and is proud to lay claim to the three best custom-build dive boats in Bali. Double or triple 4-stroke Suzuki engines and three-person crews – including a PADI-certified dive master on every outing – mean divers can cover a whole lot of ground (or water), quickly and reliably.
Each of AquaMarine's boats comfortably accommodates between ten and sixteen divers, and features on-board toilet, cushioned seating, weather-protective roofing, sundeck, exit ladder, and ample tank storage. Guests enjoy wonderful extras like complimentary lunch, tanks and gear, diver medical insurance, and unlimited coffee, tea, hot chocolate, and bottled water while on board.
DIVING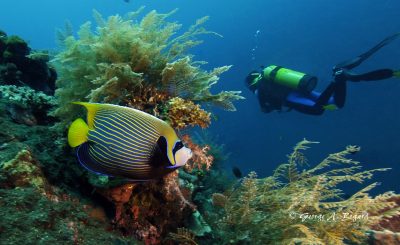 The island of Bali is a treasure trove of outstanding dive sites, and is small enough that impressive wall-diving, muck-diving, drift-diving, and wreck-diving are all within easy access of AquaMarine's dive boats and minibuses!
As Bali's most popular dive area, Tulamben Bay features great shore-diving, laidback conditions, and the widely acclaimed USS Liberty shipwreck. Coral gardens, big-eyed trevally, and leaf scorpionfish round out the experience here, as do opportunities for some magical night diving.
The white sands, staghorn coral, and vibrant marine life of Blue Lagoon have long been an AquaMarine favourite, and divers can expect to spot everything from sea-moths to cockatoo waspfish at this stunning location.
For some truly spectacular diving, count on AquaMarine's highly experienced team to guide you around the chiselled black walls of Mimpang's Shark Point and Tepekong's Canyon. Excellent visibility makes the region's abundant fish, shark, and pelagic populations a wonder to behold.
Although Secret Bay is still Bali's best-known muck dive, Puri Jati is the present-day hotspot for warm and gentle muck-diving excitement. And if it's clear and cool drift-diving you're after, check out AquaMarine's special day trips to Manta Point (the name says it all) at Nusa Penida. This island is also a must-see when the Mola-Mola (ocean sunfish) arrive between July and November.
Gili Biaha features a beautiful but rugged black wall, complete with shark cave, anglerfish, and octopus. AquaMarine is pleased to be one of only a handful of dive operators providing excursions to this site, so don't miss your chance to dive the dazzling reef that surrounds this small crescent island.