There's a lot more to Ecuador than the Galapagos Islands
What comes to mind when you think about Ecuador? If you are a diver, chances are pretty good that the unbelievable Galapagos Islands diving is going to be the first thought barging through. What about deep, lush tropical jungles? Colorful markets full of artisan crafts, spices and produce? What about towering volcanoes? Or incredible snow capped mountains?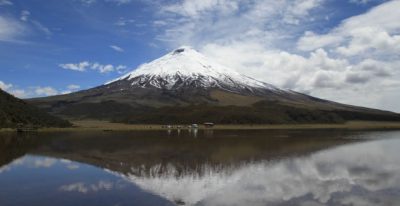 Divers crossing the Galapagos off their bucket lists can turn an incredible diving vacation into an unforgettable one by adding on a short stay in Ecuador to their itineraries. So many divers use Ecuador as just a jumping off point, but we know that there's so much more to Ecuador!
If you like the idea of eco-tourism, consider a visit to Tapir Lodge, the most eco-friendly lodge in the Cuyabeno Reserve. Rooms were built into two towers, bringing you closer to the trees, birds and surrounding nature. From your balcony, you will admire beautiful Bromeliads, Orchids, birds and different endemic species of monkeys. The Tapir lodge has a fully equipped kitchen to provide you with fresh and healthy local Ecuadorian and International food. The ingredients are a mixture of local products (fruits and vegetables) from the jungle and a few staples from the closest city. After you spend the day hiking in the rainforest, sport fishing, visiting the local Shaman, or bird watching, sit back and relax at the bar with a nice cold, freshly made cocktail. Tapir Lodge is a bit of a hike from Quito, but if you want a real feel for the rainforest, with a rustic style of accommodation, Tapir Lodge is a good option.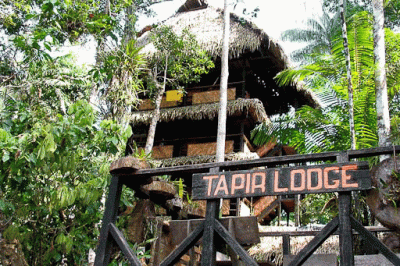 If the spa is more your cup of tea, drive through the spectacular scenes of the Andes and take a short day trip from Quito, to find the delightful little town of Papallacta, known for it's hot springs. This popular weekend destination for Ecuadorians trying to escape the busyness of Quito, is a full-service resort that offers beautiful rooms, restaurants, massage and body wraps, etc. A series of pools are filled with hot water from several nearby springs. The pools are kept at varying temperatures from 34°C (93 °F) to 39°C (102 °F) including one pool designed with beds so you can stretch out and take a nap, under one of many faucets pouring hot water into the pool.
If you love people watching, or are looking for authentic souvenirs, the city of Otavalo is only a 2 hour bus ride away from Quito. The town itself is unique in the fact that it is surrounded by the peaks of Imbabura, Cotacachi, and Mojanda volcanoes. Considered one of South America's most famous markets, Otavalo Market is the place to be on Saturdays. Vendors line the streets selling colourful fabrics, clothing, and hammocks. There are also gorgeous spices, fresh produce, meats, and ready to eat foods. Jewelry, souvenirs, ceramics, bags, and items made from Llama and Alpaca fur are available for sale. However, the most intriguing and chaotic section of the market is the animal market. Farmers come to either buy or sell cattle, sheep, pigs, chickens, ducks, cats, dogs and guinea pigs. Guinea pigs or "Cuy" as they are called in Ecuador, are pierced with a stick and roasted rotisserie style over a fire.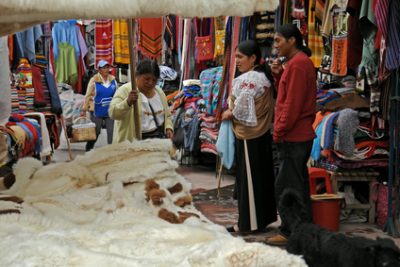 You're not likely going to find any price tags here though – shoppers should sharper their bargaining skills before arriving. Make sure you want what you are bargaining for, as it is considered bad taste to walk away after having agreed on a price.
Once you've had enough of the bustle of Otavalo Market, check out Cotopaxi National Park in Quito. Named for the highest active volcano in the world, towering 19,000 feet (5,900 meters), this national park is dedicated to protecting llama and other animals such as bears, wolves, puma and deer. The volcano has had over a dozen recorded eruptions, the last explosion having been in 1877. But that doesn't deter the avid climbers who attempt to conquer it each year.
If you would like to get a taste for the Galapagos Islands, but just don't have the time to get there, or the budget, we highly suggest checking out Isla De La Plata, Ecuador's other Galapagos. A small island off the coast of Manabí, Ecuador, and part of Manchalilla National Park, Isla De La Plata will allow you the opportunity to see many of the animals that inhabit the Galapagos Islands.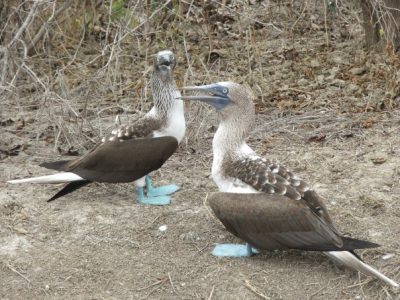 If a chance encounter with a Blue Footed Booby is on your list, this is a much shorter trip to see them. The park is home to over 200 species of birds as well as deer, armadillos and 2 species of monkey. Isla De La Plata is only an hour and fifteen minutes from Puerto Lopez by boat, compared to the Galapagos Islands which is 3 days by boat, or a domestic plane ride, which takes about 2 hours and fifteen minutes and varies in price depending on the time of year. Isla De Le Plata is considered a more natural and less "touristy" version of the Galapagos Islands. Whether you are staying a week or a month, Ecuador has plenty to offer a curious traveler. Wild ocean shorelines, dense tropical rainforest, epic snow capped mountains or busy colorful markets; Ecuador is a great destination thanks to the diverse geography and culture. Ask us to put together a custom package for you – just tell us what you want to do!