Trans Niugini Tours
Trans Niugini Tours has been making Papua New Guinea accessible to the intrepid traveler since 1976! As a well-established tour operator, Trans Niugini is unique in the world of PNG travel for managing both its very own fleet of water, air, and land vehicles, as well as a comfortable collection of award-winning wilderness lodges.
Trans Niugini maintains the highest standards in service, safety, and reliability to ensure that guests enjoy true peace of mind while exploring one of the last frontiers of authentic adventure travel. From miles of unspoiled rainforest, to the translucent blue of PNG's crystalline seas, Trans Niugini Tours invites you to discover this timeless land – and the ageless traditions of the people who live here.

ACCOMMODATIONS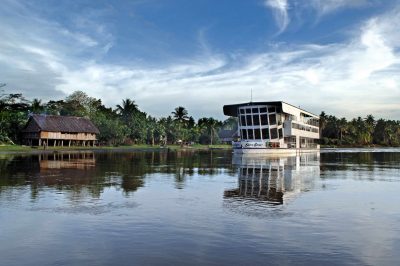 Trans Niugini Tours welcomes visitors at seven exclusive wilderness lodges. Each property is distinctive in style and setting, yet remote enough to provide convenient access to PNG's diverse culture and ecological riches. Every Trans Niugini lodge offers modern accommodations with dining and lounge facilities, as well as a full selection of touring options and seasoned, experienced guides.
Karawari Lodge in the lowlands of the East Sepik Province: Overlooking stunning vistas of the Karawari River – where no road spoils the horizon – this secluded setting lets you immerse yourself in a colorful culture of stilted villages, dug-out canoes, and tropical lowland rainforest.
Ambua Lodge in the Hela Province: Perched in the Doma Peaks almost 7000 feet above sea level, views of the magnificent Tari Valley will take your breath away. This location is ideal for discovering the ways and customs of the region's renowned Huli Wigmen.
Sepik Spirit Floating Lodge on the mighty Sepik River: Voyage along secretive waterways and hidden lakes as you explore the villages of PNG's mysterious Sepik region. Visitors here can expect a genuine, welcoming, and unforgettable cultural experience, where crocodiles rule supreme.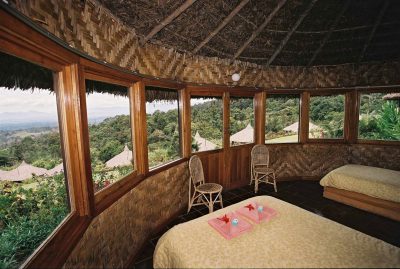 Malolo Plantation Lodge on the Madang North Coast: From this lush, tropical setting at the edge of the Bismarck Sea, diving, snorkeling, and unparalleled natural beauty call. Awaken to the song of the birds – fall asleep to the sound of the sea.
Bensbach Wildlife Lodge in a far corner of the Western Province: Teeming with wildlife, the sweeping floodplains of PNG's most isolated corner are home to wallabies, monitor lizards, and a host of unusual birds, both resident and migratory.
Rondon Ridge Lodge in the mountains above Mount Hagen: At an altitude of 7100 feet, you'll greet each day with panoramic views of the Wahgi Valley. Miles of walking trails – showcasing hundreds of orchids and birds – contrast dramatically with the tea and coffee industries of busy Mount Hagen.
Lake Murray Lodge on a small island in the remote Western Province: Tucked away on the largest lake in Papua New Guinea, timeless fishing villages dot the local landscape. If you consider birding the next best thing to diving, you'll love that more than half the country's winged population resides here.
ACTIVITIES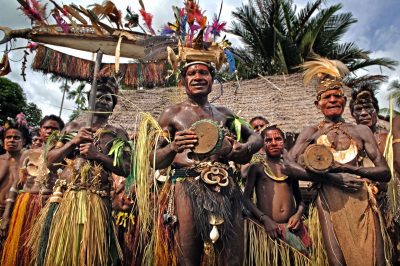 Seven million people – speaking an incredible 700 different languages – in a land featuring everything from volcanoes, to pristine coral atolls, makes Papua New Guinea the undisputed champion of diversity. Trans Niugini offers a fascinating range of programs and tours that let visitors get up-close and personal with this mysterious land and its inhabitants.
CULTURAL
Most residents of PNG continue to live a traditional lifestyle based on fishing, farming, and ancient beliefs. What's the significance of the Huli tribe's colorful clay body decoration? Why do the men of the Sepik Region cut the skin on their backs to resemble the hide of a crocodile? With Trans Niugini Tours, you can indulge your curiosity about the habits, lifestyles, and artwork of PNG's indigenous peoples.
NATURAL
Very few places in the world offer the variety of natural wonders that Papua New Guinea does. Let Trans Niugini Tours introduce you to hundreds of species of tropical birds, quirky land mammals, and delicate orchids and butterflies. Whether it's catching and releasing the mighty barramundi, or diving where the fish are too numerous to count, Trans Niugini Tours has got you covered.
FESTIVALS
From sing-sing groups to traditional dances, Trans Niugini Tours brings the color and splendor of PNG's annual festivals to you. Memorable gatherings of tribesmen and women occur at various times throughout the year, providing a golden opportunity to witness traditional ceremonial dress, dazzling performances, and the unmatched energy of local celebration.
Make the most of everything that Papua New Guinea has to offer and enhance your dive vacation by immersing yourself in its fascinating cultural and natural heritage.